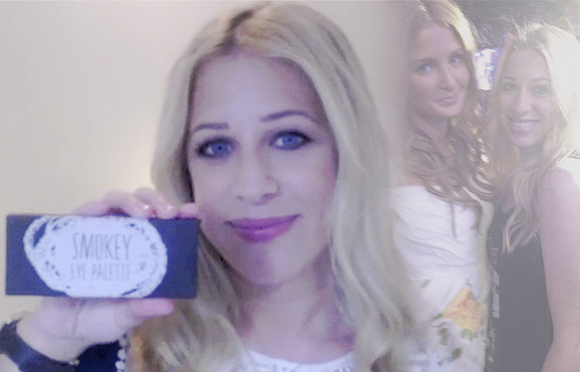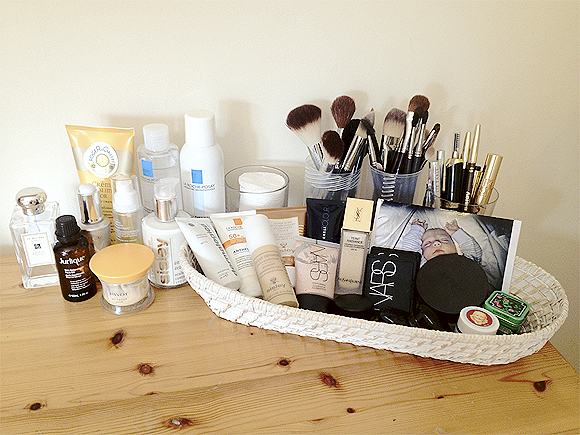 Annie Levy, make-up artist of David Guetta, the Made in Chelsea cast and many more:
(Follow her on twitter @anniemakeup and be sure to enter her giveaway celebrating the launch of her new Youtube channel!)
"As a make-up artist I get to try lots of different make-up products, some I might hardly use and others I will use repeatedly for years. Max Factor Masterpiece Max is one of the great mascaras: there are lots of other great mascaras and I rotate many of them in my own makeup but I've always have a tube of this on my dressing table for at least the last six years. It's brilliant. I don't really wear a lot of makeup, usually just a tinted moisturiser – I rotate La Roche Posay Anthelios, Liz Earle Skin Tint, Dermalogica Sheer Tint and Sisley Tinted Moisturiser. For a night out or a special occasion I will use a light foundation, usually Chanel or YSL as I love the light, dewy look they give. I also really love Max Factor Miracle Touch foundation – a very underrated product. I always pencil in my eyebrows with MAC 'Lingering' eyebrow pencil, and just finish my look with a blusher, eyeliner and a lip balm. I love Becca eye tints for a natural looking eye colour but MAC paint pots and Shiseido Shimmering Eye Colours are my favourites for smokey eyes. Nars do fab blushers. I also use Benefit Brow Gel religiously.
I'm really lucky that I get given so many wonderful products to try out and use in my kit. I'm often experimenting and trying something new as I would never use a product on someone that I haven't tested on myself first. This means I'm rotating lots of different products! My morning routine depends on how much time I have on any given day. I wash my face with Cetaphil gentle cleanser and I always use Dermalogica Daily Microfoliant in the shower. I pat on some Vichy Liftactive Serum 10 and massage in my moisturiser (I rotate Sisley or Payot favourites). If I have time and I remember, I will use Sisley Radiant Glow Express Mask with Red Clay first to give a lovely glow.
I'm obsessive about anti-ageing so I really try to take care of my skin at night. I take off my eye makeup then wash with Liz Earle Skin Polish. I dab Vichy Lift Active serum 10 over my face and neck and then massage in Liz Earle Super Skin Concentrate. I apply No 7 Protect & Perfect Intense Serum around my eyes and forehead, put Vermonts Bag Balm on my lips and rub some castor oil over my eyebrows to help them grow (I'm not actually sure how much it's working!) Some nights I skip all of that and just apply a face mask on cleansed skin and sleep with it on. My favourites are L'Occitane Immortelle, Liz Earl Intense Hydrating Mask and Payot Derma Force. Other nights, when I'm too tired to get to the bathroom, I take my makeup off with La Roche Posay Micellar Solution. It's an amazing product and so easy to use from bed!
Three products that I would consider my favourites would be…actually, I'm going to name three products off the top of my head otherwise it will take me hours to answer this (laughs) – La Roche Posay Anthelios XL Tinted Moisturiser with SPF 50, Dermalogica Daily Microfoliant,  and MAC eyebrow pencil…and Sisley lip balm. I know that's four, but for the sake of my mental health I'm sticking with four!
My favourite look to do on almost everyone is a strong brow, a lovely soft pink cheek and soft pinky lip. Matched with an even skin tone, nothing looks more flattering…whatever your hair or skin colour. The overall best tip I have learned is simple: drink water! If you drink two litres of water a day all those little lines you thought were wrinkles will go (they're actually dehrydration lines), your skin will be smoother, glowing and have a more even tone. Not only will you look better, you will feel better and have more energy. Unfortunately, we are what we eat and drink, so an unhealthy diet with lots of alcohol will never look as good on your skin as a healthy diet and water. I wish I'd known more about sunscreen when I was younger and didn't use baby oil to tan! Now, I know the importance of wearing a high SPF and having a good skincare routine. You can buy and apply the most expensive makeup but it will only look good if there's a good base to start with. I think makeup looks best when used to enhance your own individual beauty, not to cover and mask. Ladies need to back away from the false eyelashes! If they reach your eyebrows they're too long!
I love my job. I love being on set and making my presenter look and feel great about themselves so they can make great TV. I also love the variety; that I can be making TV one day or a commercial or music video the next,  or creating different character looks. I'm always in awe of the power of the products I use, the way they affect how someone is going to look and feel that day. It's really amazing what makeup can do, not only in the way it can make people look but also feel.
I've worked with lots of lovely and brilliant people and had many great experiences, all down to the people and crews; they can make the longest and hardest jobs the best times of your life. There are a few specific experiences that have stayed with me. One of my first ever jobs was doing Wet Wet Wet's make-up for a tv show and I was a massive fan when I was younger. I used to kiss posters of Marti Pellow on my bedroom wall, so that was pretty wild for me – 11 year old me was freaking out inside!
Years ago I was lucky enough to watch Alison Moyet sing in a tiny room with a handful of crew filming her performing for a TV show. It was spine tingling and I had to pinch myself that I was really there (I'm really showing my age with these references!). Some jobs are so much fun I can't actually believe I get paid to do them. Filming in Ibiza with David Guetta was definitely one of those times, as was being abroad with Piers Morgan filming his travel show and seeing some very cool things. Working in CNN's make-up room the day they caught Gadaffi was another unforgettable experience – to be in one of the largest news rooms in the world during massive worldwide breaking news was a real thrill. I'm about to start working on the London Paralympics 2012 and I'm very excited to be a part of it, I'm sure that will be definitely go on the 'best job experience' list. And I can't not mention Made In Chelsea! If you watch it (if you dont, WHAT?) the end of season show presented by Rick Edwards is as much fun to make as you would think!"