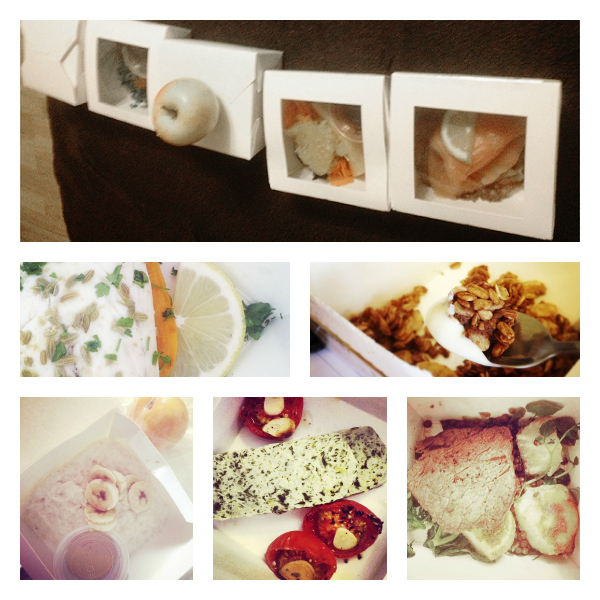 If you follow me on Instagram (@lelalondon), you were likely to have seen me upload much more food porn than usual this past week. The explanation? I have been more than pleased (and visually inspired, it seems) by a five day trial of the Zenergy meal plan service.
Zenergy is simple; a great choice for those who are too busy, too unhealthy, or too inadequate in the kitchen (ahem), Zenergy delivers healthy, fresh and nutrient-packed meals in a carefully customised and calorie-controlled plan. Offering a satisfaction guarantee, you receive a hamper early each morning with your full day's temperature-controlled meal boxes. You are, respectively, encouraged to 'recycle' the hampers at your door each succedent morning. (High five, eco goddesses!)
Every meal was delicious. They suggest you pace each 'box' roughly three hours apart, but my schedule means some stretches of time reached over five hours. Remarkably, I was not hungry. Their head nutritionist, Sara Mehrabdi, truly has a handle on the oft-debated balance between protein, carbohydrates, and feeling full. More than that, she creates food that I happily devour when I am not ravenous, because I know it is 'fueling' me. Now four days past my trial, I have noticed an unexpected but positive shift in my eating habits that has me craving more green-coloured food than the hypnotic chocolate-coloured offerings of yesterdays. For that alone, I think Zenergy would be a fantastic, painless detox for absolutely anyone.
So here we go, what you've all been waiting for, last week's food diary (minus the glass of water between every 'course').

Monday: (1250 calories)
Fruit Breakfast (eaten every day before breakfast)
Breakfast – Dark chocolate granola with probiotic yogurt
Morning snack – Kiwi and pineapple salad
Lunch – Chicken gremolata with salad
Afternoon snack – black bean and avocado with sprinkle of sunflower seeds
Dinner – Garlic salmon served with wild rice
Tuesday: (1200 calories)
Fruit Breakfast
Breakfast – Fibre bran muffins with bananas
Morning snack – Blueberries and melon
Lunch – Asian chicken served with salad
Afternoon snack – Fennel and onion salad
Dinner – King prawns served with Persian rice
Wednesday: (1300 calories)
Fruit Breakfast
Breakfast – Porridge with fresh banana slices
Morning snack – Peach and mango salad
Lunch – Seabass fillet served with sweet potato and fennel seeds (One of my favourite meals of all time)
Afternoon snack – Chicory and avocado salad
Dinner – Thai chilli chicken served with rice
Thursday: (1300 calories)
Fruit Breakfast
Breakfast – Potato pancake with smoked salmon
Morning snack – Carrots and melon salad
Lunch – Beef fillet with green salad
Afternoon snack – Lebanese influenced style salad
Dinner – Salmon and pomegranate couscous
Friday: (1200 calories)
Fruit Breakfast
Breakfast – English influenced breakfast
Morning snack – Pineapple and apple salad
Lunch – Brazilian style chicken
Afternoon snack – Spinach and walnut salad
Dinner – Garlic infused monkfish served with steamed rice