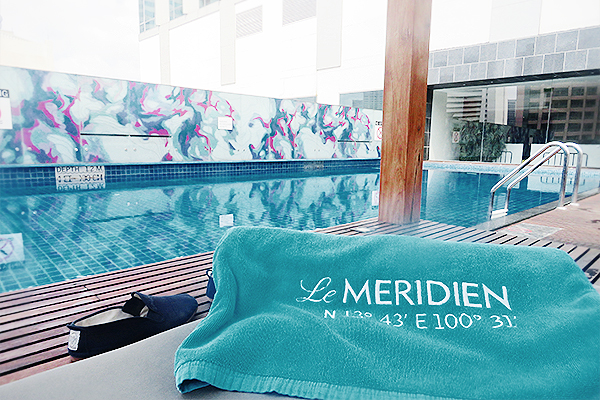 I have been romanced by Le Meridien Bangkok.
It all started – in their gorgeous and expansive lobby – with the incredibly kind staff (the concierge assisted us in every aspect of our upcoming VIP bus bookings to Koh Samui, meaning all we had to worry about was exchanging baht for tickets).
Then, with the room. Though The Manfriend and I were booked in the most affordable room choice – The 'Vista' – the quality didn't wane for a second. The large, contemporary, and Thai-influenced Vista had bottles of water tucked in every corner (a Thai essential), a King-sized bed of clouds, a decadent marble bathroom with an oversized tub and separate rain shower, a large closet (with all the amenities), a work-space, and a sofa that backed on to floor-to-ceiling windows which overlooked the city.
If we hadn't already made dinner plans, I would have holed myself away for a good 24 hours.
After a fun night across the city – through Patpong and home again – we awoke to a doorbell ring the following morning. Ahhhh…food!
Donning robes and happy yawns, we opened the door to our cheerful breakfast delivery man and the feast he carted towards us. Between us, we managed to fill the entire tablecloth (and the heated drawer below it) with bacon, scrambled egg, hash browns, little strips of French toast, salmon, more eggs, cinnamon rolls, sausage, charcuterie, cheese, fresh fruit, coffee, juice, sparkling wine, and…I think that's it?
We made it last through lunch.
I did order room service under the impression it was part and parcel of our 'free breakfast' (it wasn't) but c'est la vie – it was absolutely worth a few extra pounds.
With a few hours to kill between checking out and setting off for Koh Samui, the hotel kindly guarded our bags and let us enjoy the gym, spa, and showers until we were ready to leave. I couldn't have hoped for an easier or more hospitable hotel experience.
(There is quite a bit of Le Meridien featured in my first Bangkok vlog, so be sure to click the play button at the bottom of this post if you have yet to do so!)