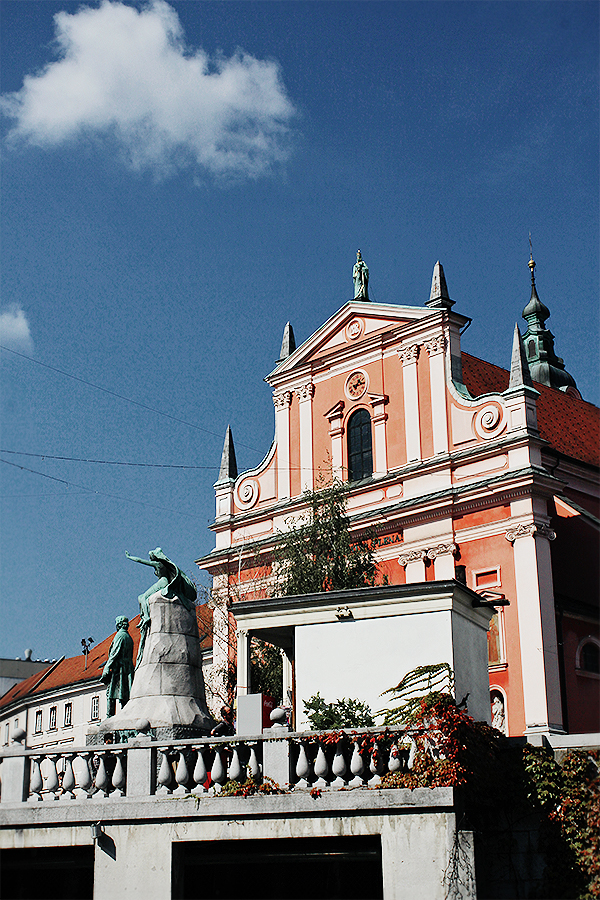 Ljubljana might be my new favourite city in Europe. So much so I considered keeping it a secret.
But, as they say, blogs must…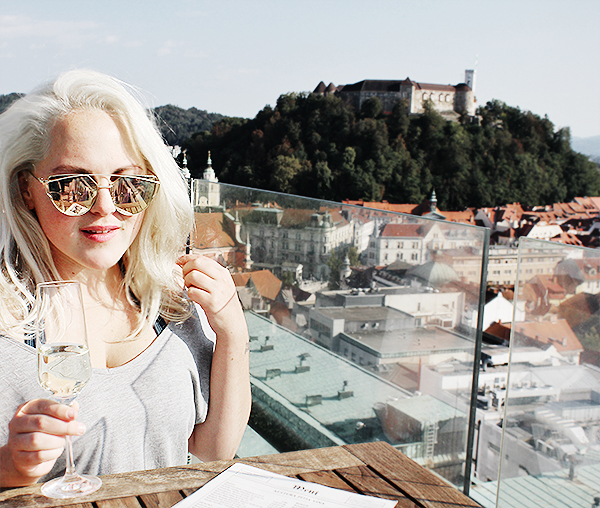 I somewhat accidentally ended up in Ljubljana. I had initially hoped to spend the week I ended up in Slovenia in Croatia but fell into a Google Maps-led rabbit hole and booked flights to the country's capital before I could think twice.
Though Croatia is still on 'the list', Slovenia felt – though perhaps not for much longer – undisturbed by tourism. Urgently authentic. With two particular areas (Ljubljana and Lake Bled) unlike anything I had experienced before.
So I arrived. Relatively unplanned. And started cursing Brexit (again) almost immediately.
Ljubljana is as charming as Europe comes. Though The Boy and I were staying in a residential area along Gerbičeva ulica, it took us less than ten minutes to walk the impeccably clean (and art-lined) streets to the centre, past bicycle installations, multilingual poetic love benches, et al.
The city's streets are centralised by the Ljubljana River, beautiful, somewhat Venetian, and surprisingly accessible for a capital city. We set off to reach the triple bridge (Tromostovje) and explore from there; designed by Jože Plečnik, the unusually-built Tromostovje consists of three separate bridges linking Prešeren square to the other side of the river and, usefully, the tourist centre.
In fact, the tourist centre is a great place to start as Ribca – a cheap and cheerful riverside restaurant – can be reached through the descending staircase directly across from it. I had hoped to sample their fish Brodet with polenta (a local favourite), but swapped out for cuttlefish risotto when I realised (through broken English) that the brodet was a winter-only dish.
The service is a little lacklustre but the food, price, and views are more than worth it.
When suitably full, we weaved our way up to Zmajski Most (the Dragon Bridge) through the Open Market, side streets, love lock bridge, and noticeably blithe locals going about their day.
Ljubljana is astonishingly liveable. Green, cultured, friendly, and elegant. Like Amsterdam without the overwrought debauchery and tourism.
After a few hours, we shot up to the rooftop bar at Restavracija Neboticnik and managed to secure ourselves a table overlooking Ljubljana castle to soak in some very unexpected rays.
The unseasonal heatwave also gave us the perfect opportunity to trial the fresh and unusual gelato of Gelateria Romantika – the unlikely best of which proved to be pumpkin seed oil gelato on top of chocolate & chilli gelato.
Trust me. It's magical.
After going on a rather uninspiring river cruise (the river is much more interesting to walk along than ride on), we headed to TaBar for dinner.
It was the start of my love affair with Ljubljana's culinary offering. The restaurant specialises in European dishes served tapas style and does a bloody good job of it. Over a few glasses of local sparkling wine, The Boy and I shared beef tartare, patatas bravas, salmon/yogurt/honey truffle montaditos, and a life-changing plate of burrata with grapefruit and honey.
I was so impressed I almost made reservations for the following two evenings.
The following morning we hopped on a train from Ljubljana to Divača to hike to the Škocjan Caves. Though trains aren't very frequent (especially out of Summer season), the UNESCO world heritage-listed caves are inarguably worth a day in your itinerary and are much cheaper and interesting to visit if you go without a tour group. The hike – once you get past a brief motorway portion – is very beautiful and only takes an hour to complete before reaching the caves' ticket office.
Photos aren't allowed, but an imaginative blend of Dante's Inferno, Batman Begins and Raiders of the Lost Ark should take you there.
After hiking the steep ascent from the bottom of the collapsed dolines back to the precipice, we had already began craving reward pizza so headed straight to Trta on our eventual return to Ljubljana. Though the pizzeria isn't in the city's centre, it is a very short walk and offers a phenomenal selection of wood-fired pizzas for an absolute steal.
The following morning we hopped into the centre of town, grabbed some fruit from the local market, and zipped up the city's gargantuan Hill to reach Ljubljana Castle. As well as offering the best view of the city (from the clock tower), the castle is steeped in unique history; it has developed from a Medieval fortress, seat of the lords of Carniola, prison, and even a residential complex into the city's proudest cultural attraction.
I wouldn't plan to spend more than an hour or two there but I would make time to climb up and down the steep Northern hill approach. The views are beautiful and very few people opt for it over the furnicular, meaning the hill feels like your very own.
Eager to explore more of the city's restaurants, I hauled us to the very embodiment of not judging a book by its cover – Špajza.
This terracotta-coloured restaurant looks like nothing more than a forgettable local haunt from the outside, yet produces a four-course daily lunch special that not only features delectable farm to table creations but costs a mere 11 euros.
For all four courses.
No kidding.
The ambience, service, and food (especially the mixed seafood risotto with scallops) were infallible.
On a true food high, we headed for Muzej Iluzij – a museum of illusions and very new addition to the city's cultural offerings. Though I entered with little expectations, I had so much fun I went around the entire museum twice and left feeling truly happy.
The museum is pure entertainment; three floors of rooms that bring illusion, art and science to life in an incredibly immersive manner. For the sake of experiencing it with fresh eyes, I didn't want to share too many photos with you but do want to urge you to take a million of your own. The Muzej is an Instagrammers heaven.
Next on the hitlist was Metelkova – a collection of buildings, bars, hostels and more on the outskirts of town.
As a woman and writer who champions street culture, I was in two minds about Metelkova. Though the hyper-graffitied and ramshackled structures were a feast for the eyes, my overall impression was poor. I had hoped for a bustling collection of cool and unusual locals but was met with a very quiet atmosphere dusted with a few unsavoury characters.
It may have been a tragedy of timing, but I felt uncomfortable spending more than ten minutes there and doubt I would commit to more than five as a solo female traveller.
Having spent the rest of the day walking ourselves stupid, we took the following morning "off" and emerged from bed around midday to source some Ljubljana Cake before our departure.
Ljubljana cake is the city's own slow food creation baked their richest local resources – pumpkin seeds, chestnuts, honey, gluten-free buckwheat and figs.
At arcade-based Torta Ljubljana, it is a must.
You might even be lucky enough, as I was, to be sitting al fresco as the city's street food trucks pull into the market and thrust a bao-bunned Angus, aioli and beetroot burger upon you.
Thrust might be a misrepresentation. I'm sure I could eat 10 of them.
I was honest-to-Buddha sad to leave Ljubljana, but, with Lake Bled on the horizon, was lucky to have many more adventures awaiting me…
…more than I even knew…