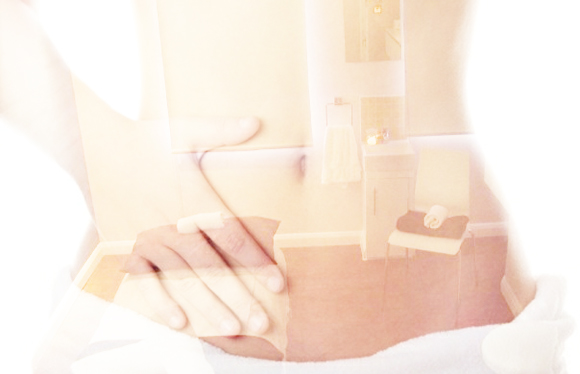 Yes, we're going there: colonics. If you've been paying attention to the media over the past few months, you're likely to have heard of this detoxifying practice. Among Matt Damon, Usher, Janet Jackson, Paris Hilton and more, Simon Cowell's heavily publicized biography "Sweet Revenge: The Intimate Life of Simon Cowell" accidentally created a PR storm for the treatment. In the book, Cowell claimed his primary way of keeping healthy was colonic hydrotherapy; "…it's so cleansing – and it makes my eyes shine brighter."
After looking for the right practitioners to learn more (key for avoiding the 'horror stories'), I found that Karl and Nicole from The Bodyworks Practice were some of the most internet-celebrated practitioners around…
Tell us about yourselves!
The Bodyworks story begins back in 2008 with Karl and Nicole (that's us). We are two therapists with a sense of adventure, having worked and studied all over the world including the UK, Australia, USA, Belize and Mexico. We both have a great passion for good, honest healthcare. We are located in Sunny Surrey where we currently run The Bodyworks Practice in Banstead.  We have a team of 14 therapists including us working at the Practice in Banstead.
And what is colonic hydrotherapy?
Colonic irrigation, also known as colonic hydrotherapy, uses warm purified water to cleanse the bowel (large intestine). It may sound scary and uncomfortable but it isn't. In fact, it can be quite relaxing and the after effects far out way any thoughts that may be running through your mind at present! Not only is it used to help the bowel release stools and regulate movement, but it is also a very effective way to cleanse the body via the blood stream.
And why did Bodyworks decide to get involved with the treatment?
I (Nicole) have always been interested in healing and helping the body naturally.  For many years I suffered with bowel issues, food intolerances, eating disorders and just a feeling of being low. After using natural remedies to heal myself I studied nutrition in Australia where we were taught the importance of bowel health and cleansing, so I tried it myself and never looked back. Along with healthy eating and exercise I found that it helped my skin clear up, I lost weight, I was more tolerant to foods, my energy soared, and my low mood lifted. From that day onwards I knew that colonic irrigation was going to be a huge part of my life.
View Post