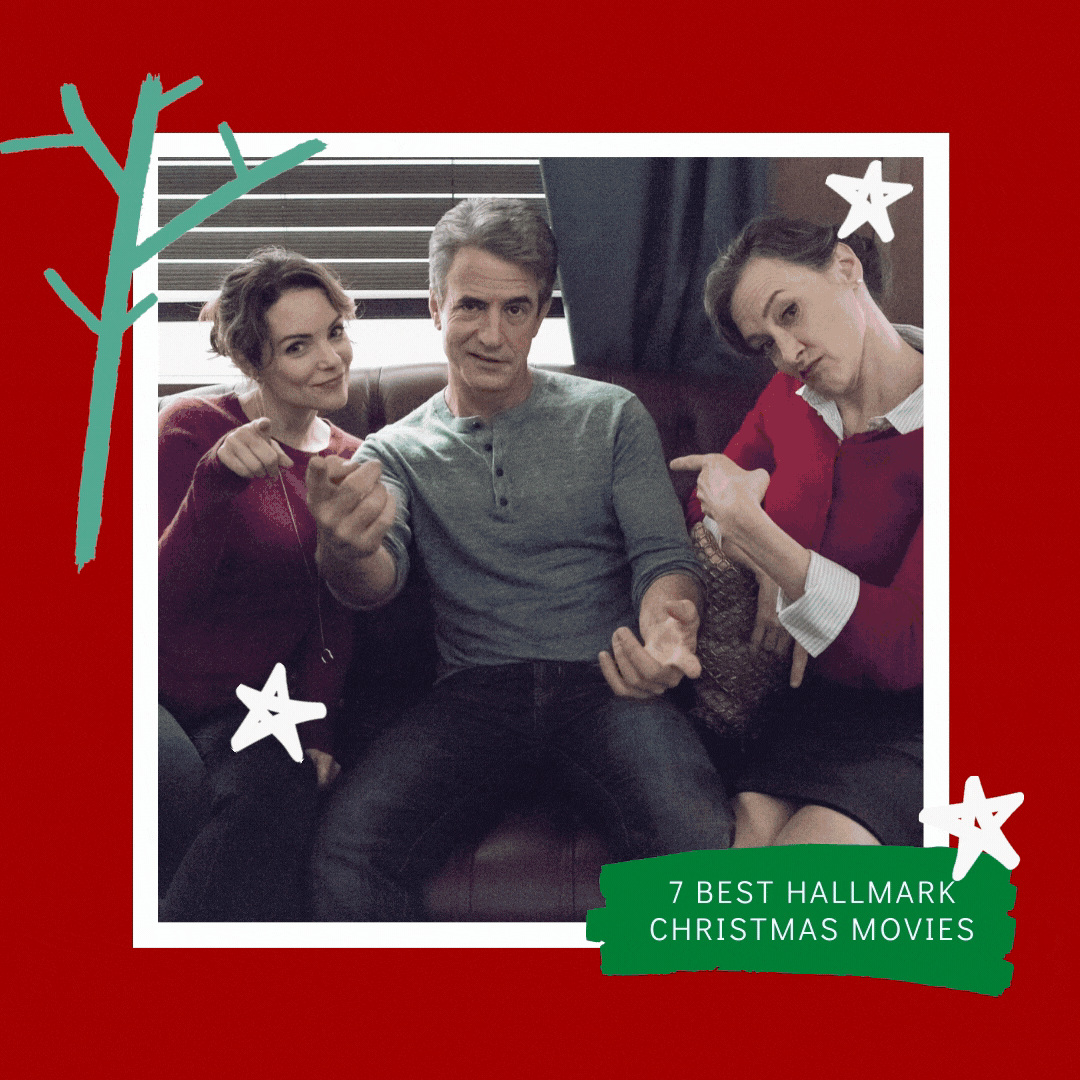 So, it seems we all share a guilty penchant for Hallmark Christmas Movies.
At least, when I asked if you'd be interested in reading a Hallmark Christmas Movie guide on Instagram Stories, a whopping 100% of you voted 'OMG YES', so here we are.
Let me start by acknowledging that, yes, there are some absolutely awful Hallmark Movies out there. Some not-so-bad, but not-so-great; the type that show conventionally-attractive cutie pies falling in straight love, surrounded by snow, and usually with some wannabe high-powered business woman, or manic pixie media type, re-evaluating her life's choices.
Most of whom have, inexplicably, been played by Full House's Candace Cameron Bure.
Then there are the truly confusing releases — like Catch a Christmas Star (2013), in which Shannon Elizabeth plays a pop star (?!) and none of the cast has chemistry, and Crown for Christmas (2015), in which a New York City maid becomes a governess to a princess, then gets swept off her feet by the king (of course) — which I feel implored to save you from.
So here they are, the seven best Hallmark Christmas movies, featuring extra-special selections for fans of Battlestar Galactica and One Tree Hill. Mince pies and Baileys at the ready, y'all:
7. The Mistletoe Promise (2016)
This little gem is based on a best-selling book by Richard Paul Evans, which means it has a bit more of a story to it than the average Hallmark film. Jaime King and Luke MacFarlane make a properly cute pair (even if they're only 'dating' as revenge on her character's ex), and there's plenty of anti-holidays rhetoric to delight cagey Christmas types.

6. Finding Christmas (2013)
Finding Christmas offers a nice little twist on the city-to-country self-discovery tropes, in a tale of two bachelors who trade apartments for the holidays. Battlestar Galactica's Tricia Helfer is the key love interest here, which marks one of many big former Battlestar Galactica cast member appearances.
5. The Christmas Train (2017)
When journalist Tom Langdon (Dermott Mulroney), his former girlfriend and coworker Eleanor (Kimberly Williams-Paisley), Joan Cusack and Danny Glover all end up on a cross-country American train journey together, ye olde rom-com at Christmas formula becomes an unexpected delight. The 'special effects' are also hilarious. A must watch.
4. Christmas at Graceland (2018)
As something of a superfan, seeing Elvis Presley's beloved Graceland estate decked out in holiday decorations was more than enough to get me to the end of this ever-so-slightly-saccharine holiday romance. Laurel (played by country singer Kellie Pickler) has a few lovely performances, too.
There's also a sort-of sequel, called Christmas at Graceland: Home For The Holidays, which stars Entourage's Adrian Grenier. Which I plan to hate-watch this week.
3. The Christmas Secret (2014)
If the idea of seeing Michael Hogan (Battlestar Galactica's Saul Tigh) waltzing around a small town in grandad jumpers is up your street, The Christmas Secret has you covered. The story hinges on single mom Christine (One Tree Hill's Bethany Joy Lenz), whose life is falling apart, and the ripple effects of everyday kindness. With some heart-warming twists and turns, to boot.
2. One Winter Weekend (2018)
In this predictable-but-fun snowscape, we get to enjoy the trials and tribulations of a recently dumped relationship writer and her best friend, who happened to be double booked in a ski lodge with two eligible men, including Dewshane Williams (The Expanse, The Umbrella Academy). It's a bit girl power-y, a bit snowboard porn-y, and a bit great.
1. Road to Christmas (2018)
When a high-flying TV producer learns she has to produce a Christmas Special with the host's son, she's rightly peeved, but the Christmas season (and incredibly festive road trip) soon brings everyone together. One Tree Hill's Chad Michael Murray leads the formulaic courting, basically reprising his role as Lucas Scott (before he became absolute intolerable).