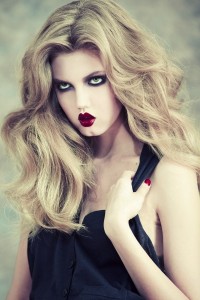 I don't think I've ever come across a 16-year-old quite as put together as Lindsey Wixson. Her year-long rise to fame has been meteoritic; the Kansas beauty has been on almost every major runway from New York to Milan. Here are some lovely interview bites to get to know her better:
"I don't really think of myself as being 16. I think I'm in the middle of 17 and 22. I don't feel 16 at all."
"Real success is not, like, materialistic. It's being where you want to be when you want to be; just living your life how you feel; having an ultimate goal and being able to accomplish it. For me right now, success will be getting a GED."
"[The industry lets] people party at a very young age. I'm not into it, and it's bad for my skin."
"I really like Amelia Earhart. She's from Kansas. She disappeared, so I have to take her place. I want to be Dorothy. I want to be Amelia Earhart.…I want to do it all."
Check out the mini Lindsey Wixson gallery below.