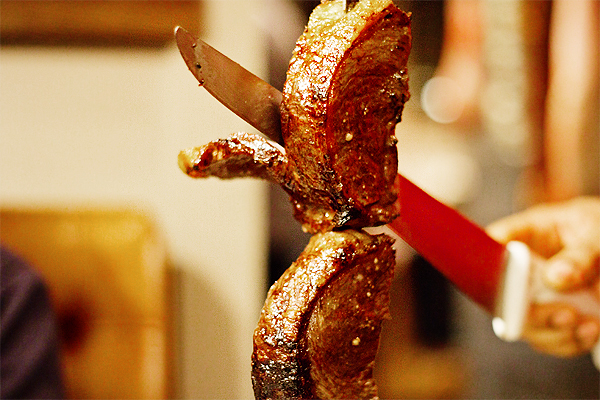 For Christmas eve, The Boyfriend and I took a pitstop (one of a few) in Granary Wharf for a double dinner date at Fazenda.
The only order you place here is for your drink and, as it turns out, that is just the way I like it. Swapping restaurant convention for something altogether more appetizing, Fazenda's concept is simple: bring a carnivorous* friend or two, sit in some atmospherically-appropriate leather or cowhide chairs, then enjoy the most gluttonous meat buffet you could dream up. All for a fixed price of £25.
Though I wouldn't recommend wasting precious stomach space on too much of their gourmet salad bar (which – strangely – includes hot fish dishes and sushi), the smoked salmon, 18-month matured grana padano, beef with onion marmalade and 12-month matured parma ham are all worthy highlights.
When you return to your table, the real show begins. Using a cardboard disc (green on one side, red on the other) you are able to flip it over to welcome skewer-yielding waiters to your table, or take what we affectionately ended up deigning 'a meat pause'. You will flip and flop more than you think.
Though a booklet is placed on each table to detail the various cuts of meat on offer, you can do no wrong by green-carding the following: filet mignon, bife ancho, alcatra, fraldinha, linguica, and the leanest, juiciest contra filet known to man. It is worth mentioning that the cordeiro (fresh mint lamb) – which I regrettably had no room for – truly wooed my dining accomplices, as well.
With eat slice of medium-rare meat dotted by a few complimentary chips or a nibble of grana padano, it took no time at all to throw in the towel. Nevertheless, we got through £100s of top quality meat and tapas in less than one hour. You can't get better value for money than that, my friends.
*There is, in fact, a vegetarian menu but I would suggest leaving any veggie friends out of a Fazenda excursion. It would be like taking a nun to a brothel.