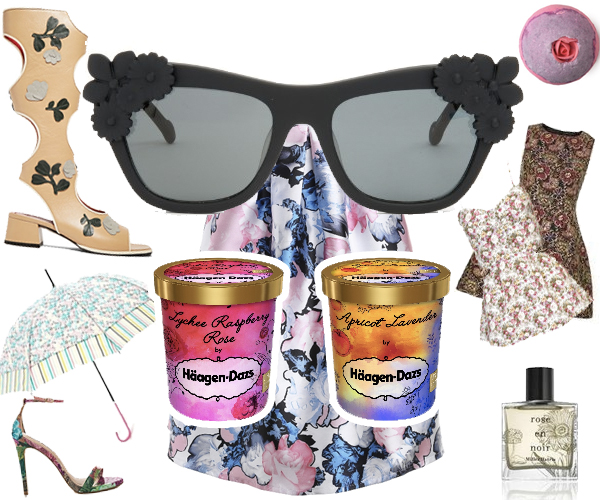 I may be an exceptionally excitable human being, but I have seen very little get my friends 'Lela Excited' before unleashing the new Häagen-Dazs 'Little Gardens' collaboration with Liberty London on them.
We're talking Level Ten Lela Excited, ie "I've just seen a baby bunny become best friends with a baby unicorn and build a house made of glitter!"
The reason? Not only are these limited edition flavours (Lychee Raspberry Rose and Apricot Lavender) deliciously mood-boosting, but they come in gorgeous packaging specially designed by Jardins de Babylone – a team of botanical artists from Paris.
In keeping with the Häagen-Dazs quality gold standard, both varieties are made from a base of only 4 kitchen-friendly ingredients – fresh cream, real milk, sugar and free-range eggs. The soft and fruity florals are added naturally – real lychees, raspberries, Moroccan apricots, Turkish rose extract and lavender.
The flavours will be sold exclusively in Liberty London from next Monday (April 11th) for a limited time alongside a Carnaby Street window takeover designed by Rebecca Louise Law (her previous projects have been featured everywhere from New York;s Times Square to the Royal Academy).
To celebrate the launch of Little Gardens, I've compiled a special Dazs & Liberty-inspired floral Spring Edit for you to enjoy before you check out the range in store next week…
It's time to get Lela Excited!
Shop the Spring Edit –
The Floral Ice Cream: Häagen-Dazs
The Floral Cut-out Boots: Marni
The Floral Umbrella: Totes Isotoner
The Floral Dress: Dorothy Perkins
The Floral Skirt: Romwe
The Floral Top: Rare
The Floral Heels: Steve Madden
The Floral Fragrance: Miller Harris Rose En Noir Eau De Parfum
The Floral Sunglasses: Preen by Thornton Bregazzi
The Floral Bath Bomb: Sex Bomb from Lush

In partnership with Häagen-Dazs