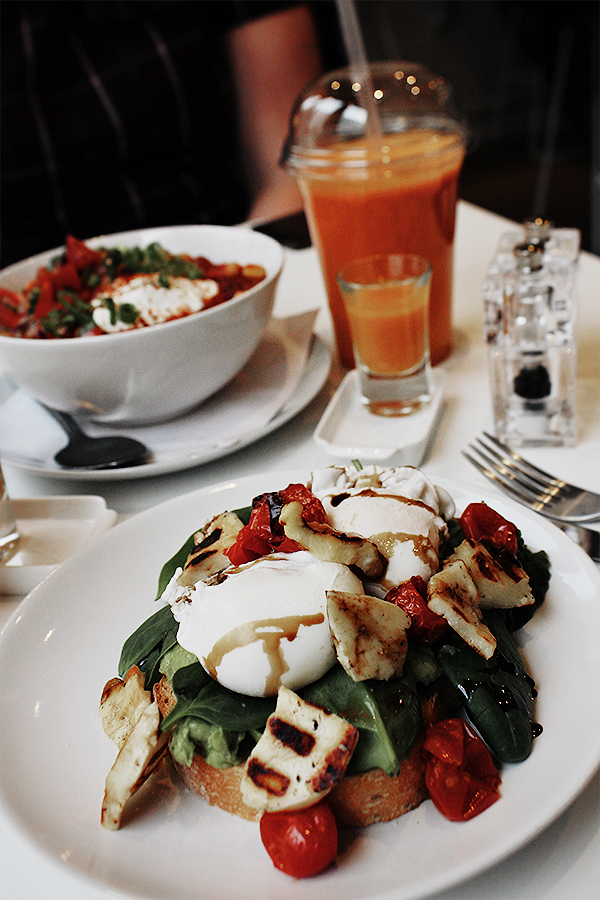 I was more than ready to hang my passport out to dry for the year (you can see why) when an opportunity to explore Jersey presented itself.
A new Channel Island? Less than one aeronautic hour away? With French influence and – seemingly – the cuisine to match?
I made the time.
(Read the blog, watch the vlog, and plan your own island break – below!)
In an outstanding foreshadowing paradigm, our flight departed a few hours late from London (islands and fog do not a friendship make), but we managed to move a reservation and cause little to no disruption.
This was, after all, a Winter break for two of the most laid back women in the world. Women who planned for little more than eating and exploring. A reservstion swap was no skin off our back.
After checking in at The Royal Yacht (St Helier's effusive and ideally-located city centre retreat) and scattering our belongings like real-life girls on tour, we hopped straight on to the number 3 bus and headed for Rozel Bay.
Tip: these busses don't announce their stops like they do in London. Check their timetables, locations, and make friends with your bus driver. A friendly introduction meant ours dropped us virtually on the doorstep of our afternoon tea at Chateau La Chaire.
The aforementioned delays meant we didn't have the time to explore the northern coastline and cliff paths of Rozel Bay, but a Christmas-themed afternoon tea at Chateau La Chaire – located in an adorably French-tinted address of "La Vallée de Rozel" – more than made up for it.
Welcomed by its hilltop garden ascent and a roaring fireplace, The Chateau (read: hotel) was the perfect welcome to Jersey's serene Winter wonderland.
As their lounge was completely empty, the afternoon tea felt more obliging than any before. It was 'standard' in the sense of finger sandwiches, scones, pastries, and tea but incorporated a hospitable finesse – and beautiful cocktails – which far outshone its price tag.
As it also marked my first taste of real Jersey black butter (now the only thing I can imagine pairing with fresh clotted cream on a scone), it was decidedly better than many well-reviewed tea alternatives I've had in London (the so-called home of afternoon tea).
Having sat in the lounge so long the sun had fully set, we took a short moonlight stroll around the town and caught a bus (one of maybe three vehicles to approach us in fifteen minutes?) back to St Helier for some robe time at The Royal Yacht.
I'll leave the fun of those hours to the vlog.
Come 10pm, we took our surprisingly existent appetites on a short walk to Banjo for dinner.
Among a throng of Christmas parties well into the drinks menu, we made a few painstaking choices over a flawless menu and decided to share a selection of makeshift mezze.
Highlights included Jersey Rock oysters in Champagne butter (my mouth is genuinely still salivating), Jersey crab & lobster bisque with Gruyère cheese, buffalo mozzarella (with grilled fig, polenta crisps, and rosemary & olive oil dressing), seared scallops (with peas, bacon, onions / garlic butter), and a 28-day aged medium-rare fillet steak with truffle & Parmesan chips.
Still full from the previous evening, we waited until the last thirty minutes of service to compile our breakfast at The Royal Yacht and became genuinely thrilled for the following morning's feast only a few bites in.
The hotel know what they're doing in every respect.
Alas, we had to do a little more than eat (for sanity's sake) during our time in Jersey so spent the next few hours exploring every nook and cranny in St Helier, Jersey Central, and Beresford Street Markets.
Buzzing with Christmas cheer, the market town was a pleasure to meander through and still only a fraction, I imagine, of the energy during Summer months. Boutiques like Eclectic, Liberty Wharf and Pebble were a pleasure to peruse, while Jersey Pottery (a third generation family owned ceramic and giftware business) was so fantastically cute I made room in my carry-on for a few pieces from their seahorse collection.
Hours and hours of people-watching and free hug-giving later, we hopped on the number 2 bus to St Catherine's Breakwater to stroll through Gorey's brisk sea air (the coastline offers views of France on a clear day, but we didn't beat the sunset!) before cosying in to Sumas for dinner.
It is – hands down – the best restaurant in Jersey.
From the second we walked in to Sumas, we felt we had walked into a family gathering. The owner, Paul, flitted zealously between his small living room collection of tables ensuring everyone felt as sublime as the food presented to them.
Simply put, the food felt delectably intimate. From their simple Royal Bay Oysters (with white wine sauce, cucumber & herbs – all of which are grown organically in the Royal Bay of Grouville and served natural or poached) to their seared local scallops (with curried cauliflower, caper & raisin), almost everything they serve is sourced less than one mile away.
The micro-restaurant extends out to a small terrace overlooking the water in the Summer but I strongly advise booking in advance for any season's visit. To go to Jersey and not go to Sumas would be a crying shame.
The following morning, I vaguely recalled performing Proud Mary with a group of party-hopping ladies on the midnight-fifteen bus back to St Helier. A head-healing morning was required and Spa Sirène at The Royal Yacht was conveniently located downstairs to assist.
The spa was an absolute haven. After a stretch (in all three – ! – of their dedicated steam rooms) and swim, I headed to their adjoining treatment rooms for an uber-luxe 'Me, Me, Me' treatment. Using Phytomer skincare products, the treatment is designed to tailor-tackle your skin to its most radiant potential. It combines a back massage, bubbling thermal sea mud treatment, a deep cleansing marine based mud masque and custom facial that breathes all the life back into your skin that you may have drank away the night before.
As much as I took pleasure in two consecutively stupendous dinners, the array of indulgent wine pairings from the previous evening left my body yearning for something karmatically "clean" to round up the spa morning.
Nude Food was the only logical answer.
I had heard nothing but sweet nothings about this hidden gem's vegetarian dishes, juices, smoothies, and clean sweet treats so decided to sample a bit of everything; a cleansing juice, immune-boosting ginger & turmeric shot, veggie burrito bowl, and, naturally, avocado-topped sourdough toast with poached eggs and halloumi.
Satisfied to the healthiest max, we took a selection of sweet treats away and I – honest to Dalai Lama – kicked myself for waiting to tuck in until I was an ocean away from them in London. I would be happy to eat Nude Food superfood brownies and spirulina & coconut power balls exclusively for the rest of my dessert life.
Though we had hoped to adventure on a bike ride along the old railway track from St Helier to La Corbière, the weather had other things in mind so we spent the last few hours before our flight enjoying the countless unusual exhibitions of the Jersey Museum & Art Gallery and Merchant's House – an essential look into the heritage and history of Jersey (with some incredibly passionate and knowledgable staff, to boot!)…
…for whatever reason, we headed to the airport oblivious to the weather's potential effect on more than our bike ride.
Our flight was cancelled.
I have never had a flight cancel.
The silver lining? This is not uncommon for Jersey's off season – the airport, airline, and their collective staff handled the cancellations with surprising diligence and calm.
It wasn't the ideal end to our trip, but we couldn't be too bothered by an extra 24 hours on an island we loved!
We headed back to the hotel (thankfully just a short bus ride from the airport), checked into a new room, worked (while bae napped), grabbed a decadent hot chocolate in town, bought some Jersey black butter as a souvenir, took advantage of a few quiet hours in the spa, and eventually felt hungry enough to walk across the Weighbridge to The Square (who have accidentally launched a personal addiction to tiger prawn caesar salads).
As it turns out, island breaks aren't just for sun-seeking multimillionaires (though hey, I'm not gonna say no to decadent St Barths trip and wardrobe to match). You can visit Jersey and leave with riches far superior.