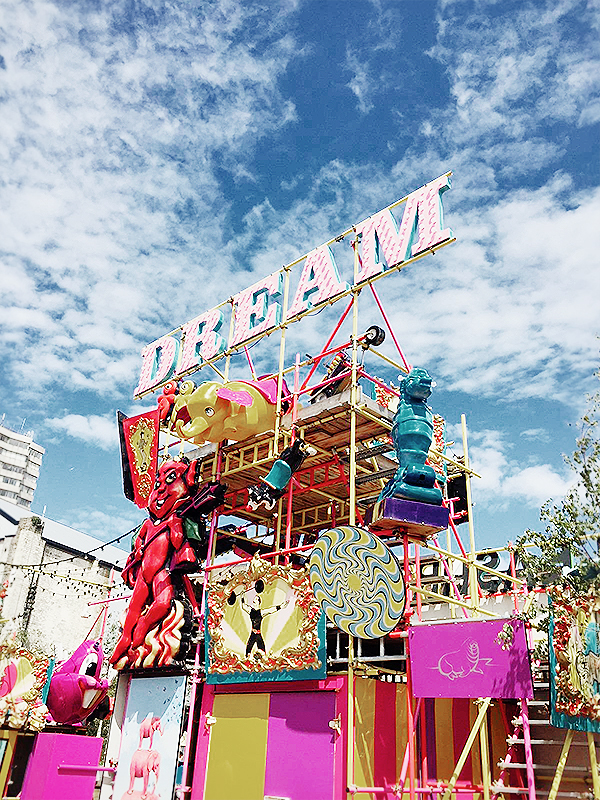 I wasn't sure how I'd feel about a weekend in so-called 'Shoreditch by the Sea' before visiting Margate. My research seemed promising (beach, food, amusements, et al) but I had yet to hear many people say much of anything about Kent's north coast.
The trip was, affectionately, a gamble in a heat wave. One that offered just enough intel to help you do your own introductory trip in the best way.
What to do in Margate
The seafront
The primary draw of Margate is the ability to be on the beach within a single hour and a half train journey from London. And it doesn't disappoint. Margate's seaside has golden sand, warm water, and a refreshing lack of 'sea and be seen' behaviour you get outside of British beaches.
Compared to destinations like Brighton or northern Cornwall, there were also significantly fewer people than expected for genuinely hot weather meaning both the beach and its surrounding restaurants felt more relaxed and accessible.
Dreamland
Dreamland is a funfair on steroids. The amusement park has been on a rough ride of its own since launching over 100 years ago (administration, multiple closures, and more) but has since been re-imagined to perfection. With new owners and investment, Dreamland now hosts new rides, live music, street food, film clubs, a roller disco, and more.
You can even purchase 'twilight tickets' which give you access from 5 to 9pm Thursdays to Sundays which, with alcoholic slushies in hand, offers an unforgettable night out.
It is also undeniably Instagram-friendly with neon lights, giant rainbow racing slides, and delightfully colourfil landscapes.
Turner Contemporary
Though the contemporary art museum is less than ten years old, many people thank it for the resurgence of tourism and development across Margate at large. I didn't have the time to make it inside but admission is free and it sits right on the edge of the seaside, making it an ideal pitstop for a day in Margate.
Where to eat in Margate
There are quite a few well-reviewed spots along the seafront, so we made sure to beeline for two of the best – Peter's Fish Factory and Cinque Ports. The fish factory is exactly what you'd expect from a chippy with a line around the block; fresh produce, friendly service, and a wide variety of finely-fried fishies.
Cinque Ports offered something a little more refined, without being pretentious. Their focus is on elevated pub food, sourcing everything seasonally and locally. Though I initially sat down for a recovery plan of fried pickles and Bloody Marys, everything that came out to our table of six was phenomenal. Double corn fritter burgers to smashed avo on toast.
Where to shop in Margate
Though the small town hosts a handful of high street favourites, Margate's real shopping destinations are its Shoreditch-synonymising vintage stores. Pink-walled Peony Vintage and its surrounding shops on King Street hold some of the most unique French vintage I've seen in years, but there seems to be a little vintage space worth exploring around most corners. Even RG Scott's Furniture Mart offers an Aladdin's Cave of restored and vintage finds.
Want to plan your own trip? Enjoy Margate has the goods!