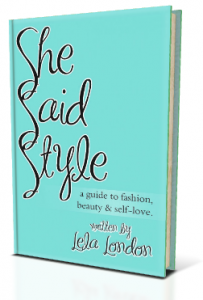 It is midnight! Relevance? Exactly one year ago, Lela London Dot Com was born. 970 blogs later (I kid you not), I am releasing my first book: She Said Style!
Stylist and fashion editor Lela London has spent her life creating and compiling tips and tricks that every woman wishes she knew. From a style icon-worthy dress sense to the secrets behind the flawless face, a priceless number of insider tidbitshave all been revealed in her first book: "She Said Style".

As a wonderfully wise guide to fashion, beauty, and self-love, Lela's wit and knowledge will excite you into tiers of panache and cool that are assumed to be reserved only for celebrities.

She Said Style is a must-have for every woman, being purposefully free of high-and-mighty fashion dictatorship. Every page is practical, customized and intimate in a way that will stick with you through the rest of your sartorial life. Every age, income, skin colour, personality and diversity is not only accounted for, but celebrated.

From closet inventories to trend-navigation techniques, body worship to body manipulation, and shopping secrets to bargain guides, there is enough here to elevate you to dream-like style savvy.
I literally could not wait to share this with you. This is my pride and joy, labour of love, (insert another cliche here) and I know all of you will adore it like I do!
Click here for a further look at She Said Style!
Lots and lots of besos,
Lela London