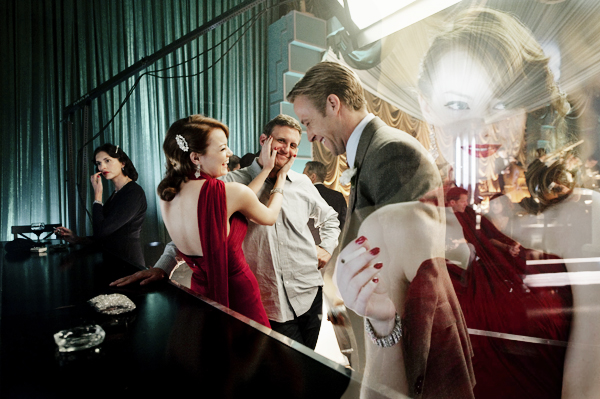 Excuse me for arriving late to the party but…how awesome is Gangster Squad?
If Ryan Gosling alone wasn't enough to get you to the theatres, let me spell Gangster Squad out for you; 1940s. Wit. Action. Style. Mobs. Off the book cops. Sean Penn. Josh Brolin. Nick Nolte. Emma Stone…
…in fact, I know Emma Stone's wardrobe would be reason enough for many of you to get caught up in the film's slick aesthetic. Playing Gangster Moll Grace Faraday, the redhead epitomised everything I adore about 1940s style.
To 'Get The Look'…
How-To: Emma Stone's Gangster Squad Style:
– Hair: Barely changing throughout the entire movie, Grace always has uniformed and glossy curls pinned back to one side. To get the look, I suggest gently combing through No Heat Sock Curls and getting a pretty hairpin to secure one side away from your face.
– Make-up: You want to keep the skin very soft and mattified (best example) and the rest of your make-up as simple as cat-eyed eyeliner and a show-stopping red lipstick (try NARS Jungle Red). Anything else would detract from her simple and classy beauty look.
– Fashion: Royal-toned and floor length gowns rule here. (Options: steal, save for, or splurge).
And hey, while you're at it, why not take a second to enter to WIN one of 5 blu-ray copies of the Gangster Squad DVD (out May 27th)?! Thanks to the lovely folks at Warner Bros, you are in with an exclusive chance to get your hands on the jam-packed DVD.
To enter you must: Like Lela London on Facebook and follow Lela London on Twitter (receive an extra entry for following Lela London on Bloglovin'!) through the Rafflecopter widget below.
Competition ends May 28th, 2013.