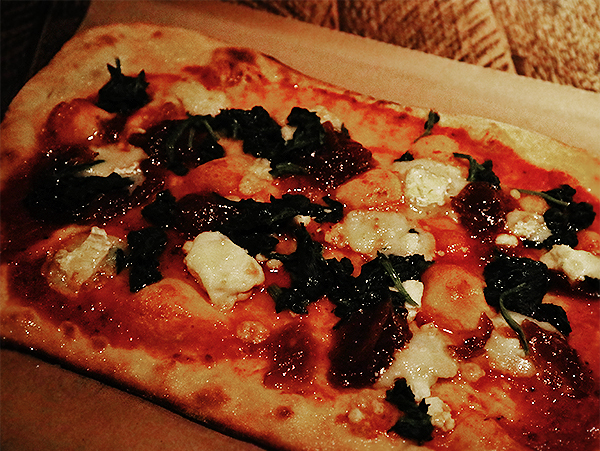 There is something bittersweet about promoting restaurants I love. Especially when they're hidden gems. But Tank & Paddle is a little too brilliant to keep secret.
It lives up to (and yet somehow defies) every expectation of a "pizza and beer" place. Though it is situated in the centre of The City, it is virtually impossible to "stumble upon" (below ground in Minster Court) and is significantly more affordable than its surrounding banker-seducing restaurant alternatives.
Yet the food is just as good.
With an absence of the postcode's notorious white tablecloths and sommeliers, you get bar service (perfect for large groups), cosy corners, killer cocktails, and outright feasts at the cost of a dessert somewhere else.
After a round of Porn Star Martinis (my #sorrynotsorry pizza companion of choice), my dinner date and I split a Billy Goat's Stuffed pizza (Rosary Goat's Cheese, spinach & red onion chutney), pepperoni & chilli filled mac and cheese (a gooey-as-they-come delight called "The Hot One"), a gargantuan Greek salad, and savoury dough sticks with Garlic & Herb Butter and Chilli Butter (they also do a Nutella-filled option for dessert – your skinny jeans are forewarned).
It was a banquet that took us all the way through our Martinis, a bottle of bubbles, and more than a handful of dance breaks.
For its location, food, drinks (everyone around me was cooing over their beers), pricing, vibes, and deals (ie "Any regular pizza for £5 on Mondays"!), Tank & Paddle might just be the City's greatest hideout.