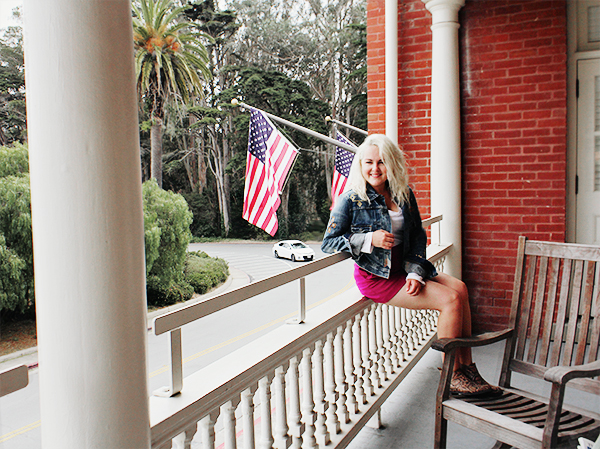 I couldn't hope for a better segue into my San Francisco adventures than the Inn at The Presidio…
Arriving late from L.A., Charlie and I tapped in the address on our booking, hopped in an Uber, and felt flooded with confusion (albeit distracted by the best of Buddy Holly) as we descended from the city's famed and moonlit streets into a lush and tranquil park.
"Is this…still….San Francisco?" I asked, hoping everything I had ever been told about getting into cars with strangers hadn't been in vain.
"It's the best part!"
Seconds later, we pulled up to the real-life manifestation of a building I had digitally lusted over weeks prior; The Inn at The Presidio; a former Georgian-style U.S. Army barracks turned independent hotel.
It is – as the name would suggest but a travel-worn head may forget – set in heart of the Presidio (the city's most loved park). But more on that letter.
From the second we spotted the rocking chairs on the porch we felt at home.
At least, if home a sumptuous hideaway just 15 minutes from downtown San Francisco.
Everything in our room (a Tier 3 Classic King, for reference) defined liveable luxury; gargantuan Restonic beds to sink into, EO amenities, a fireplace, flat-screen TV, mp3 docking station, specially sourced tea and coffee supplies, a beautiful desk & living room set overlooking a spacious balcony, local books, et al. Even pet-friendly options.
By the time our complimentary continental breakfast rolled around (later trumped by their nightly wine and cheese reception with new friends by the hotel's fire pit), we didn't want to leave. It was the perfect place to take a breather from wildly more exhaustive adventures in the city itself.
Though we only found the time to really explore The Presidio on our final day, it would take no effort to imagine a return to San Francisco venturing no further than the Presidio grounds. Built against the mouth of the city's iconic bay and bridge (it quite genuinely offers the most otherworldly view of The Golden Gate Bridge ), The Presidio has come a long way from an even longer history as a military fort and boasts some of the most interesting cultural experiences in San Francisco.
Hikes? The stunning San Francisco National Cemetery? Unique tech start-ups? Restaurants? Art exhibitions? The Lucasfilms Headquarters (with a 26″ life-sized Yoda)? Street food markets? Architectural research opportunities? The Preisidio has a little bit of everything. There is even a Presidio-run bus (PresidiGo) to make sure you have easy access to all of the park's highlights.
My favourite, somewhat inevitably, was The Walt Disney Family Museum. Quite obviously, the museum takes visitors on an intimate exploration of the life and legacy of Walt Disney and I am emphatically thankful I took the time out to be one of them.
The exhibitions often change and take you from Walt's inspired $40 Missouri beginnings to his game-changing Hollywood dream come true. The stories and surprising, props fascinating, and journey as heartfelt they come.
I couldn't recommend the Inn at The Presidio and all of its surrounding attractions more.
Just wait until you see what else San Francisco had in store…
For more information and to start planning your visit to the USA, visit www.VisitTheUSA.co.uk.