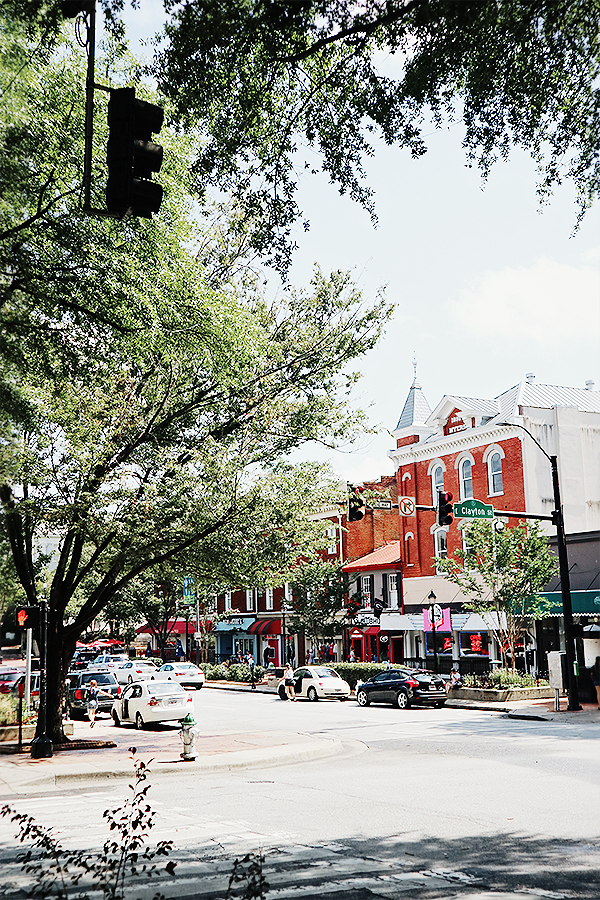 "They live in Athens?" I questioned, momentarily wondering whether my sporadic decision to spend a long weekend in a city I couldn't point to on a map was all that bright.
"Let's do it!"
Recalling my whirlwind adventure in Athens Athens less than a year ago, I could hardly refuse getting to know its denominative twin (albeit, as a consolidated city–county in Georgia, an inevitable contrary to twindom in every other way).
True to 'all good decisions find their way to the blogiverse' form, you can rest assured Athens USA – differences abounding – had plenty to offer of its own…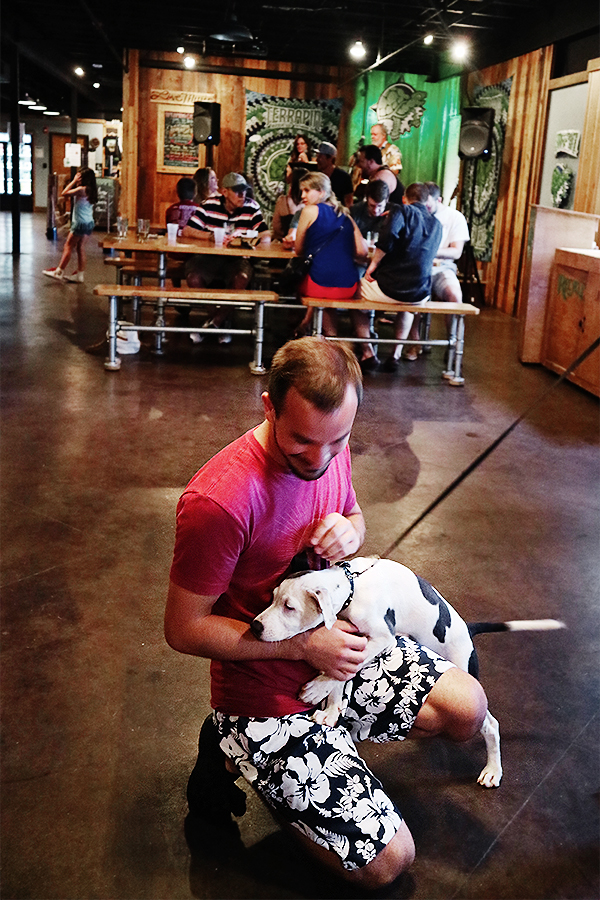 Hot off a micro road trip from Atlanta with Athens-dwelling friends-of-a-friend destined to become family, we headed straight for Terrapin Brewing Company under the promise of some sensational craft beer.
Terrapin, unlike many flourishing breweries in this craft-mad culture we currently live in, has actually been a success story built over 15 years and now boasts seven year-round beers, four seasonal sessions, and at least a dozen special projects & collaborations at any given time.
As it is illegal to sell beer directly from the brewery under Georgia law, you buy a 'Tour' of your choice as you enter the tasting room and use your drink tickets to sample to your liver's discontent. Personal favourites included the Sound Czech (a Czech Pilsner), Blueberry Thyme Saison (exactly what it sounds like and dangerously alcoholic), and The Walking Dead (a blood orange IPA and an obvious go-to for any zombie-loving patrons).
The tasting room is open for 'Tours' Wednesday through Sunday (with live music Friday through Sunday) and typically hosts more benevolent puppies than you could shake some hops at.
Somewhat starved from hours of puppy cuddles, we decided to head to downtown Athens for some sustenance and were fortunate to walk under the city's 4th of July fireworks en route to The Grill (171 College Ave).
The Grill is open 24 hours a day, looks like it hasn't been renovated since the 1950s, and has everything you'd hope for from a classic American Diner; burgers, fries, milkshakes, malts, a jukebox…even the option to order an entire plate of pickle spears for less than a dollar (#sorrynotsorry).
Don't leave without bobbing everything on your plate in their secret recipe feta dip.
Unfortunately, the visual bygones of that evening's continued excursions were the collateral damage of a mugging that took place a few weeks later in London (which I'm sure I will discuss with you at some point). Nonetheless, I practically demand you visit Sister Louisa's Church for a Sangria or five. After you prepare yourself for a less-than-holy experience cocooned under some diverse yet wholly provoking artwork.
Ping pong, music, and genitalia abound. Don't say I didn't warn you.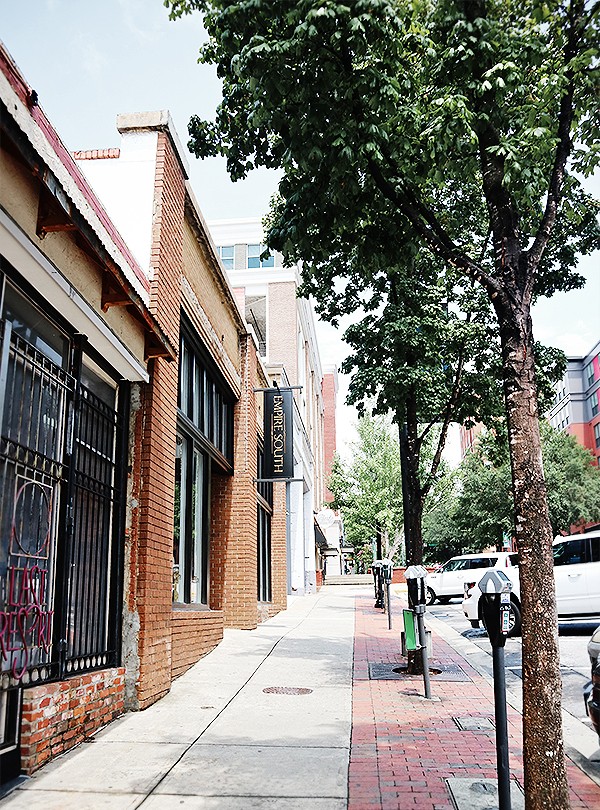 Having spent the following day kayaking up a storm and saving lives (I kid you not – I'll let the Insta do the talking on that one), we took that evening "off" from the world for some quality time with loved ones preceding our final full day.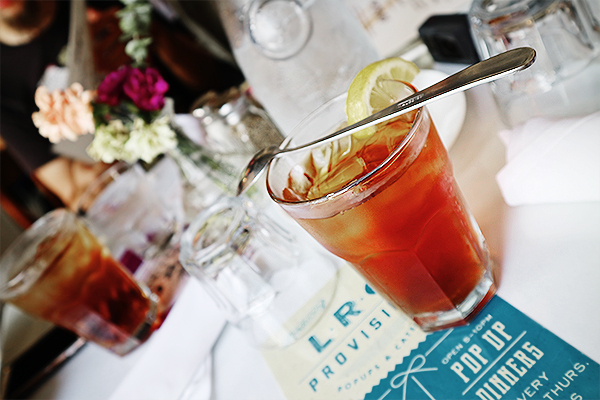 I woke up with the cliche blogger ache for a visually appealing meal so riled the troupes together for lunch at branding-addled but foodie-recommended Last Resort Grill.
The Southwestern-inspired restaurant looked like a whole lot of nothing from the outside but served, hands down, the best food in Athens on the inside.
At street food prices, we covered our glass-topped white tablecloth (as our running joke now goes, they're not quite pompous enough to forgo a protective shield) with gargantuan plates of Insta-beauty and glass upon glass of unlimited unsweet/sweet tea, respectively.
You'd be mad to miss out on the Meatloaf Patty Melt (grilled and served on local bread with caramelized onions, melted monterey jack, bacon & chipotle remoulade) and Chuck's Carolina Crab Cakes (rich crab tossed with roasted sweet peppers, rolled in sourdough crumbs, then sautéed to plump perfection, finished with a red pepper aioli & served with a wild green salad).
Wanting to get to grips with the cultural center of the city, we took a self-guided tour through downtown Athens' independent shops, historic streets, and 'sights to see' (for music fans, the
famed Georgia Theatre – renowned for catapulting many bands into the 'big league' – is a must).
On the never-ending hunt for every city's best caffeine, we pulled into Zombie Donuts for a coffee and ended up going buck wild with their customisable donut offerings.
For $1.75 – regardless of customisation – Zombie lets you choose a donut base, coating (everything from glazed to maple icing), toppings (even wilder selections – Fruity Pebbles, bacon, pecans, sprinkles, et al), and creates it fresh in front of your very eyes.
They're ridiculously moreish, a tad funnel cake-y (which boasts a delightfully lighter mouthfeel), and incredible fun to experiment with. Especially when dipped into their house-brewed coffee.
Vanilla, glazed, with bacon and pecans for the win.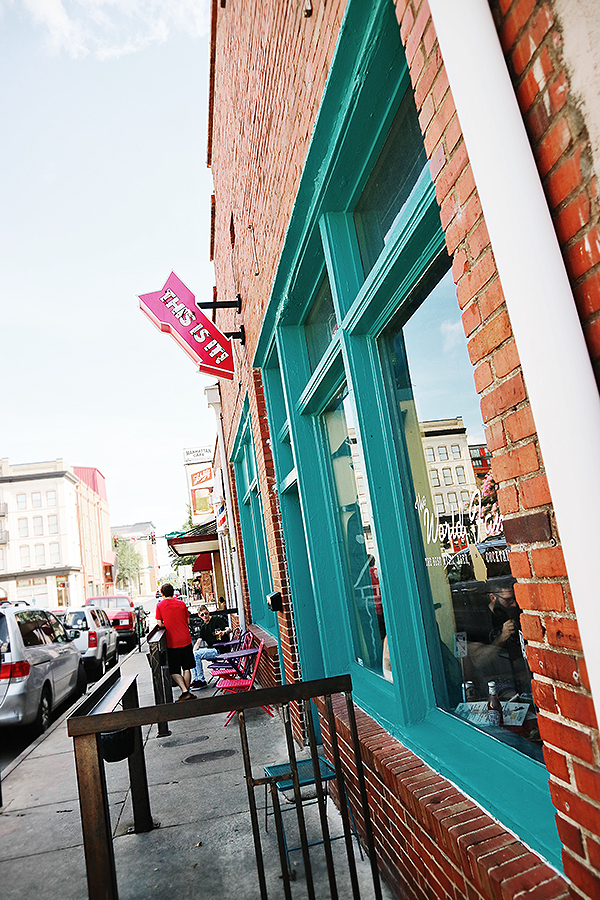 10,000 calories later, we decided it was in our best interests to continue walking the city's sights so took a fumble into to the opposite side of town – past the hella atmospheric The World Famous (denoted by an arrow above the door exclaiming "This Is It!") to Avid Bookshop.
I always try to pop into an independent book shop when I visit a new city and stores like Avid are the reason why. With carefully curation, Avid's wonderful staff offer an axpertly-balanced selection of incredible literature (with personalized recommendations) and gifts (for children and adults alike) with personality and charm abounding.
We spent a delightful hour perusing journals, collecting feminist nic nacs, and dry erase- vandalizing their bathroom mirrors before walking our purchases across the street to Daily Groceries Co-op (Athens' only food co-op) for some equally thoughtful and well-considered produce.
That little corner of Prince Avenue has more heart than some entire cities.
That evening, we stopped at a bizarrely derelict house overrun by cats on the way to Shaking Rock Park. The park was a former camping ground of the Cherokee and Creek Indians before being settled by American pioneers and European emigrants, but now acts as an incredibly scenic expedition spot for hikers and wood nymphs alike.
After a jaunt around, we threw up a few hammocks past the park's 27-ton boulder (balanced perfectly atop a granite outcrop) and dug our noses into the fruits of Avid's earlier labour.
Having heard nothing but amazing things about Mama's Boy, we intended to visit the following morning but arrived just as the doors were closing so took our desperately hungry bellies to Big City Bread Cafe instead.
While Big City aren't catering to people who eat with their eyes, their soft biscuits, perfectly balanced veggie tofu scramble, and unlimited coffee refills more than met every other sense's needs.
Before hitting the road (or should I say train track?) for DC, we took our final hour at Five Points Bottle Shop on Lumpkin Street to spend a few necessary dollars supporting another wonderful local business.
Five Points, purposely styled after a vintage convenience store, is co-owned by a team of brothers and offers personalized service as such. A wine, liquor or beer selection service so good, in fact, that people drive from as far as the Carolinas to experience it.
With the help of their hyper-knowledgable staff, we grabbed a few local favourites and rare finds for that evening's friend-making Amtrak journey and, bittersweet as it was, finally said a bientot to Athens.