Though Stop Two of Lela Takes The Crescent technically registered as Atlanta, I spent a total of approximately 24 hours in the city before shooting off to Athens for the majority of my Georgia-dwelling days.
Nonetheless, I didn't want a waste a moment in the state's capital – especially as it was my first time exploring more than its airport – so set off to experience Athens in a guide-worthy manner…
As soon as we hopped off the train, we headed to a highly recommended (if not slightly out of the way) Japanese restaurant called Shoya. In a reticent corner of a Doraville-zipcoded shopping pavilion, the restaurant doesn't look much from the outside but serves an elephantine menu of worthy plates and bowls inside; black tonkotsu, generous sesame seaweed salads, stunning sashimi platters, and more (don't forget a bottle of my favourite sake – Hakkaisan – to wash it down).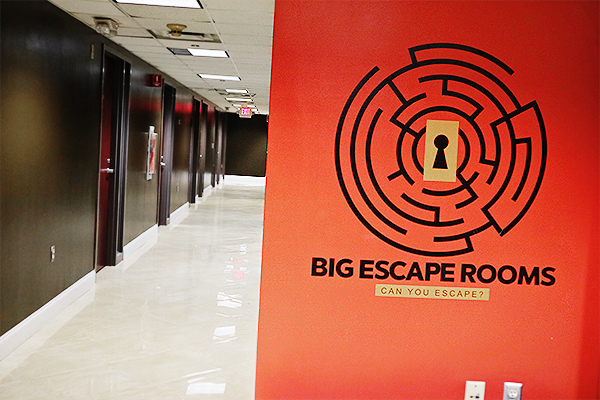 Fully prepared to seize the evening, our band of sake-filled brothers headed to Big Escape Rooms for a night in 'Outbreak' – the escape game company's most difficult room. As someone who loves a challenge, the idea of a post-apocalyptic, antidote-hunting adventure from which less than 10% of visitors 'escape' sounded like a dream come true.
Without giving too much away, Big Escape Rooms was hands down the best escape room – or anything like it – I've been to anywhere. With one hour to save the world, our team – compiled of friends and strangers – used every ounce of our collective brain power (and lack thereof – I actually hopped on my friend's shoulders to shift ceiling tiles for hidden clues that didn't exist) to solve and destroy every obstacle.
Did we escape, you ask? Well, no. After 59 minutes of phenomenal success and two rooms completed, we got the final escape code backwards.
I blame the Hakkaisan
Deciding our world-saving efforts went altogether swimmingly (who is really going to bother with door codes in a zombie apocalypse anyway?), we decided to celebrate with a slap-up brunch at Sun In My Belly the following morning.
Nestled on a quiet street in Atlanta's historical streetcar suburb of Kirkwood, the event company-cum-Sun In My Belly serves up eponymy-principled grub in two beautifully rustic rooms drenched in light. The unanimous highlights were the Belly Benedict (two poached eggs, chipotle hollandaise, a buttermilk biscuit and sweet potato & honey-glazed bacon hash with garlic-spinach sauté), Challah French Toast (stuffed with honeyed ricotta and served with fresh seasonal fruit & maple syrup), and a thin-sliced house-smoked salmon bagel (with shaved red onions, brined capers and cream cheese).
Bellies well and truly filled, we set off for our very last pre-Athens stop – The Atlanta Zoo (which I grammatically refuse to call Zoo Atlanta, albeit its actual name).
Though a zoo boasting pandas, lions, kangaroos, naked mole rats, and komodo dragons literally has something for everyone, my real personal draw to the zoo was Chantek – a Bornean/Sumatran hybrid orangutan. Chantek, quasi-famously, was raised by some very inspirational humans to learn sign language and now – as an adult – understands most spoken English.
The 'keeper talks' offered by the zoo really garnered a crowd at the orangutan habitat with tales of cognitive programmes to keep all the orangutans happy and stimulated (voluntary iPad games and all!), primate painting parties, et al.
Throughout the day, I found the full 'park' incredibly family friendly without being overwhelmed with youth and far more educational an experience than many zoos can be bothered to curate.
With all that said, I have yet to check much off my 'list' in Atlanta but if you're as time-constrained as I was, the aforementioned would be a sensational start.