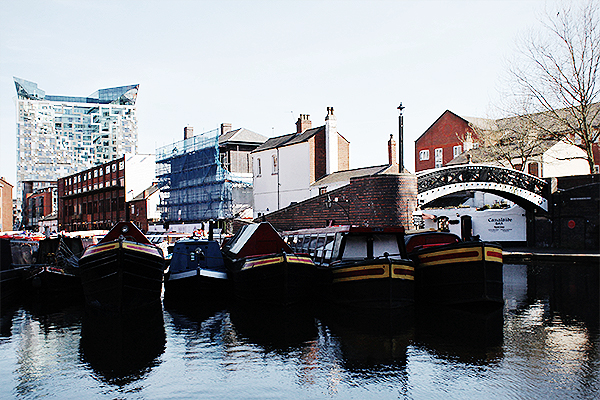 I haven't done a lot of solo female travel in a while. Fortunate as I might be to travel for a living, the majority of my trips are experienced alongside similarly-careered journos or provide a wonderful opportunity to travel with my nearest and dearest.
When I realised my trip to Lanzarote left from Birmingham Airport and I had no business commitments past the morning beforehand, I hopped on a train and indulged in some pure and simple 'me time.
In no time at all, I arrived at the Travelodge Central Newhall Street to uncharacteristically blue British skies and a dead phone battery.
Though I'm sure I simply overworked my phone as an on-the-go office during the journey up, I took it as a sign and set off to explore an unfamiliar side.of the city with nothing more than my camera and a bank card.
With no idea where I was going and no GPS to rely on, I stopped off at the front desk to rifle through a few local brochures and maps.
"Where are you off to?"
"…I actually have no idea."(laughs)
"Well, there are a lot of award-winning curry houses nearby?
"I'm not that hungry. Where would be good to just…walk?"
"Ah!" *the friendly gentleman turns his hands into something of a temporary set of legs* "Go to the end of fhe road, cross the bridge and walk down to the canal. It's beautiful on days like this! Lovely pubs and all."
And it was. It was so beautiful I let my camera be my tour guide. I walked the sun-drenched waterside pathways for hours, led by nothing more than visual and mental aides. It reminded me how important it was to switch off. Switch off and talk to strangers. When I happened upon a red carpet premiere, I started chatting to the security guards rather than Googling what it might be (it was the Peaky Blinders premiere, or as the security guard said – "Perky Blinkers").
Though solo female trekking with a smile invited an inevitable share of twattery ("Hey, baby! Come and sit with us!"), it was worth it. I discovered the most beautifully barren shopping development – The Mailbox – in a city of busy consumerism, treated myself to a glass of champagne, spent a bit too much money in their Harvey Nichols
After an unknown amount of time, I chased the sun back to the hotel, pausing for a quick stop at Rub Smokehouse to pick up a pulled BBQ chicken cobb salad. Because it doesn't get much better than a night of working and eating in an enormous bed.
The next morning, I filled up on Travelodge's lovely little breakfast selection and set off for the airport feeling completely calm and happy. I couldn't think of a better way to travel to an out-of-city airport.