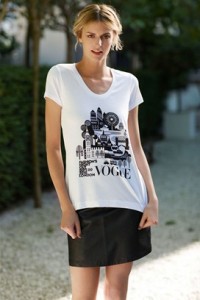 The itinerary thus far for September 8th, 2010 in London is as follows.
Mulberry: It'll be a lively night at Mulberry's Bond Street store with SingStar karaoke, face-painting on the first floor and a live DJ busting tunes on the ground floor. Refreshments will be provided in the form of pies, Prosecco and beer for the boys.
Manolo Blahnik: Following an appearance at Liberty, Manolo will be at his Old Church Street store signing shoes. Try your luck at winning a pair from the autumn/winter 2010 collection.
Matthew Williamson: The British label will be teaming up with chic Moroccan restaurant Momo to transform the Bruton Street store into a Moroccan Souk, complete with a Gnawa music group, Moroccan-inspired drinks and canapés for guests. All guests visiting the store that evening will have the opportunity to enter a competition to win covetable front row tickets to the Williamson's London Fashion Week show in September. Matthew will also be making an appearance with a mystery star guest.
Liberty: The iconic British store will launch Manolo Blahnik's World of Manolo pop-up shop selling an array of exclusive products including candles, shoehorns and chocolates. The mini boutique will also feature a bespoke bar with drinks named after his chic designs. Also, to celebrate Liberty's new scarf room opening, the store will be hosting styling classes and mini-fashion shows showing customers how to wear their scarf.
John Lewis: Jewellery designer Alex Monroe will be at the store, offering up his top jewellery secrets and tips whilst showing off the autumn/winter collection. The action kicks off at 6.30pm until 7.15pm.
Jaeger: Peruse the label's Fashion Through the Decades exhibition showcasing Jaeger's fashion trends since its founding in 1884. Enjoy music from Cozette while sipping on a cocktail or two.
Harvey Nichols: Head to Harvey Nichols in Knightsbridge where designers including Erdem, Christopher Kane and Martin Grant will be on hand to customise the Fashion's Night Out charity T-shirts and tote bags on sale in store. The first floor will create an old-fashioned haberdashery area where designers will help you jazz up your piece. Have a picture taken with your favourite designer in one of the store's photo booths. In Manchester, the store will host a variety of designer trunk shows or, alternatively, guests can eat a three-course meal while watching the hit fashion film Devil Wears Prada. The Leeds branch will hold a large-scale fashion showcasing autumn/winter's key looks and trends.
Georgina Goodman: Goodman herself will be in store for most of the evening, treating customers with cocktails from 6pm until 9pm. There will also be a competition to win a pair of signature shoes worth £760. For those in want of an evening souvenir, the Goodman Photo booth will be at hand for camera happy moments.
Fenwick: Famous fashion illustrator David Downton will be on hand to launch his new book, Masters of Fashion Illustration, from 6-7.30 pm in the library area of new restaurant Bond & Brook. Each signed copy sold will the customer to enter a prize draw at 7.30pm to win a chance-of-a-lifetime portrait sitting with David himself.
DKNY: For one night only the store will turn into Bungalow 8 – on with your dancing shoes.
Chanel: Get an express manicure in one of Chanel's gorgeous new colours from its Les Khakis de Chanel collection; Khaki Rose, Khaki Vert and Khaki Br, created by, Chanel's global creative director of make-up Peter Phillips, especially for Fashion's Night Out.
Burberry: One of fashion's most stylish men, Christopher Bailey, will host an evening of Champagne and canapés, as well as offering shoppers the chance to win two tickets to the must-see Burberry spring/summer show. The store will also conduct an acoustic bands session showcasing the best emerging music talent.
Browns: The London-based boutique is launching its Shop 24 – a new concept store spanning over two floors, comprising must-have wardrobe staples from the perfect white shirt to the best worn-in biker jacket. Browns will also be marking September 8 with Back To School activities with leading authorities offering guests lessons on music, art and food. Shoppers will be offered mini shepherd's pies, rhubarb and custard crumbles from the Tuck Shop and fizzy pop served from the Bike Shed.
Brooks Brothers: As a special celebration for Fashion's Night Out, the label will be hosting a one-night-only photographic exhibition of iconic customers taken from their archives – featuring stylish customers such as Abraham Lincoln, Franklin Roosevelt and the Kennedys, to Frank Sinatra, Clark Gable and Mary McCarthy. The showcase will be accompanied by displays of replicas of the garments donned by their famous customers. The store, at 150 Regent Street, will be offering refreshments, Jazz and the chance to win your favourite contemporary Brooks Brothers look from the exhibition.
Giorgio Armani: Vogue's editor Alexandra Shulman and Giorgio Armani will be hosting a glamorous cocktail party at the Emporio Armani store on Bond Street.
Alexander McQueen: The Bond Street store is holding a prize draw to win a covetable Britannia clutch bag. The British label is also launching an exclusive bracelet in five varying colourways.
Anya Hindmarch: The store will be holding a How Do You Wear Yours competition – asking shoppers to pose with a Hindmarch handbag and have their photo taken. The best pose, judged by Anya herself, will win the bag.
Nicole Farhi: Nicole Farhi is set on bringing a taste of France to W1 by transforming its windows into a makeshift, family-run crêperie where customers can buy a tumbler of wine and dine on a classic crepe.
Selfridges: Recently named the world's best department store, Selfridges will launch Mulberry's pop-up shop unveiled by Emma Hill. Colin McDowell will host a conversation with Peter Pilotto while Lily Allen will celebrate the opening of her sister's vintage store, Lucy in Disguise, with a star-studded party and a pop-up boutique.
Smythson: Cowshed spa manicures and free cupcakes will be on offer at the Bond Street store . Shoppers can bring in products to be stamped for a personalised touch.
Solange Azagury-Patridge: In what is surely the most exciting of lucky dips, try one of the complimentary popcorn boxes – three boxes will contain one of Solange's Hot Lips rings.
Fashion Illustration Gallery: FIG, usually open by appointment only, will be open all day and into the evening, showcasing recently published prints (now available though VOGUE.COM). A host of artists including Jason Brooks and Tanya Ling will be creating drawings on paper bags in front of visitors, who can then buy the designs for a fraction of the price typically paid for the artists' original works and prints.
Vivienne Westwood: Be sure to head to the label's Davies Street store to see a mini-exhibition showcasing Vivienne Westwood denim pieces designed throughout her career.
Vogue will also launch a limited edition T-shirt designed by Sanna Annukka – a half Finnish, half English illustrator and printmaker. All profits will go to charity Kids Company.