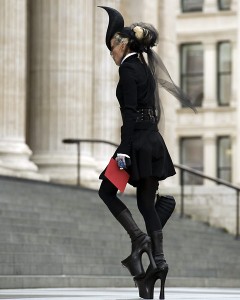 Mid-London Fashion Week, we paused to remember Alexander McQueen at a memorial service in St Paul's Cathedral. Anna Wintour, who spoke during the service, remembered McQueen as "a complex and gifted young man. His final collection was a battle between dark and light. His was an 18-year career of harnessing his dreams and demons," she said. "He showed us everything was possible; dreams could become reality. But he has left us with an even more exceptional legacy, a talent that soared like the birds of his childhood above us all."
Bjork sang Gloomy Sunday by Billie Holiday. Video is below, and it's absolutely heartbreaking.
Sunday is gloomy, My hours are slumberless Dearest the shadows I live with are numberless Little white flowers Will never awaken you Not where the black coaches Sorrow has taken you Angels have no thoughts Of ever returning you Wouldn't they be angry If I thought of joining you?
Gloomy is sunday, With shadows I spend it all My heart and I have decided to end it all Soon there'll be candles And prayers that are said I know But let them not weep Let them know that I'm glad to go Death is no dream For in death I'm caressin' you With the last breath of my soul I'll be blessing you. Gloomy Sunday.
Rest in Peace, Lee.