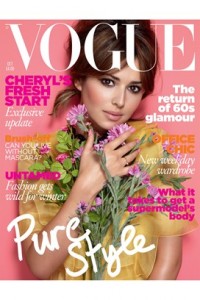 Cheryl Cole is on one of the cheesiest covers ever for the Vogue UK October issue and it's doing her no justice. Is Patrick Demarchelier joking?
A source for the magazine claimed:
"It's been 18 months since we published our original story about Cheryl Cole and despite mutterings that she was a flash-in-the-pan phenomenon, her popularity has stuck, her story continuing to intrigue. She is particularly popular with the Vogue team, since our cover shoot took place only 24 hours before she was diagnosed with malaria. Although she felt really unwell on the shoot, she was a real trouper, sticking with us and working though the day. Of course, at that stage nobody knew what the problem was. We are all very grateful to her for her stoicism."
That's no excuse for this. Excuse me while I puke sparkly daisies.