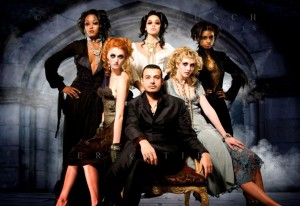 Parisian couturier Eric Tibusch provides everything a woman needs from haute couture. The genius designer is known for his modern and affordable productions of French haute couture, which he qualifies as "young couture". Tibusch was recruited on the spot by Jean Paul Gaultier in 1998 and given the responsibility for the fashion shows of his famous "Maison de Haute Couture", eventually creating his own "Maison de Couture" eight years later, aged just 34. This week, I was fortunate enough to get a great interview with the legend himself:
Bonjour, monsieur! Five words to sum up the brand?
Contemporary-avant-garde-couture. There, I can sum it up in one!
Smart cookie. So why fashion design in the first place?
When I was a child I remember going to visit the tailor-maid with my mother. I would collect pieces of fabric that had fallen on the floor and make clothes for my cousin's Barbie dolls. Also, my mother was a fashion-lover and she passed this down onto me. Fashion has been a passion shared by the both us and this passion is something I've always had inside me. I worked for several years in a famous couture house where I learnt an enormous amount of things. One day the opportunity to launch a couture collection presented itself to me, and so I went for it, and it all began from there.
What a dream! What has been your biggest challenge thus far?
The biggest challenge has been launching a ready-to-wear line, in fact we are currently developing a second line for the wider public for both women and men.
Men, as well – how refreshing! How would you define your personal style?
Comfortable, elegant and contemporary.
Finish this sentence: "I can't get through the day without…"
Shoes!
And for the females – one piece of advice for today's woman?
A little black dress, because every woman needs to have one in her wardrobe.
Favourite and least favourite trend of the season?
I don't actually pay attention to the current trends, I prefer to anticipate upcoming trends instead!
Personal highlight from your last show?
My personal favourite from my latest couture show 'Legende' is my 'contemporary art in haute couture' dress. To make it, I took down an oil painting and cut into it to form a long dress. The painting is signed Alexandra Mas, and the dress will be on display at her upcoming exhibition in London early next year.
That was a phenomenal piece! So, what is next for Eric Tibusch?
It's more or less confidential, so all I will reveal is that I am continuing my exploration of fashion architecture.