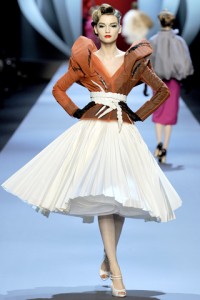 Valentino – The departure from the recent to old school was unexpected but not as interesting as it could have been. The pizzazz wasn't there, and neither was my beloved Valentino red (two pieces do not please a customer base).
Jean Paul Gaultier – Amazepants. JPG used throwback numbering cards like the RTW (ready to wear) I built my love for fashion on. Killer.
Elie Saab – Not one misstep. A collection that screams Megan Fox – in a good way.
Givenchy – Samurai meets Geisha. Hats are unwearable brilliance.
Chanel – Oi vey, Anja and Freja did not look like their beautiful selves. Was it the unadventurous and unflattering collection? Not sure – it wasn't offensive, but it was disappointing.
Christian Dior – THIS IS COUTURE. The colour nuances alone…I mean…Dior never fails. Left typeless.
Alexis Mabille – A bit ready-to-wear for my taste, but I would not kick a single piece out of bed. Clean statement.
Armani Prive – On first glance, I hated it. Then I remembered this is haute couture, and realised this is exactly what future fashion has been asking for. Structure, fabric, and texture are all genius, but the leggings must go.
See the best pieces below!