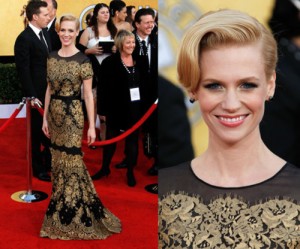 Awards season fashion deserves a standing ovation this year. The 2011 SAG (Screen Actor's Guild) Awards are usually a hotpot of missteps – a tradition stylist-ly avoided this year! One of my favourites? January Jones. This ornate number by Carolina Herrera has the most incredible cut and detail. WORK, Betty Draper.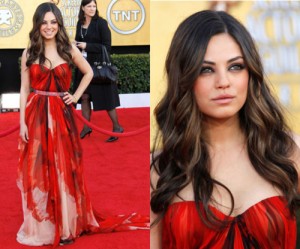 After her Black Swan co-star Natalie Portman wore this exact palette on her Viktor & Rolf gown at the Golden Globes, we have Mila Kunis' version a la Alexander McQueen's 2011 resort collection. Cartier bracelet to top it off. Imagine a black carpet to see it at it's best.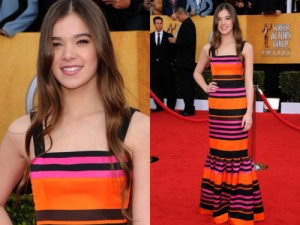 15-year-old True Grit star Hailee Steinfeld deserves a round of applause for picking the ugliest dress from Prada's Spring/Summer 2011 collection, lengthening it, and killing it. How does she do it? The hot pink nails, Solange Azagury-Partridge lips ring and matching lipstick certainly help.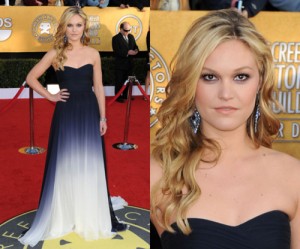 Dexter's Julia Stiles looked the best I have ever seen her last night. Her Monique Lhuillier Pre-Fall 2011 navy and white ombre gown was the perfect level of eye-catching and was perfectly accessorized via vintage jewels and Jimmy Choo's "Mini Tube" clutch.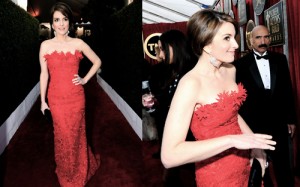 Because I love Tina Fey, I try to avoid looking at her red carpet ensembles. My theory is that she either a) gets drunk before dressing or b) has the world's most hateful stylist. Things have finally changed – just look at her in this brilliant red column gown by Oscar de la Renta. Smashing.