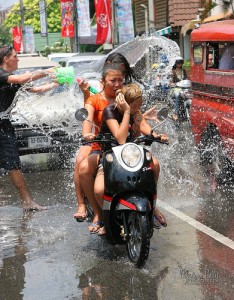 The past week – in it's entirety – was spent calculating the areas where I wouldn't be attacked. Blame Songkran. For those who are unaware, Songkran is the name for the Thai New Year – a country-wide holiday which is celebrated country-wide by dousing as many people as you can find with a bucket of water.
It is fabulous. Along with armies of buckets, cups, super soakers, and garden hoses ready to pounce from every corner, there is a wonderful sense of unity and excitement everywhere you turn. If you're in Bangkok, you can't escape it.
With that said, after a few days of play your sartorial sanity may begin to suffer. The moment some mentholated talc – which is sometimes mixed with the H20 – hits your Christian Louboutins, your eyes will be spewing water of their own. Solution? Follow these tips to get the most out of city-wide water fights while dressed for success.
Waterproof it. Obvious as the advice is, a raincoat will protect you! Just make sure it is lightweight – the heat is unforgiving.
The LBD. Little black dress to the rescue! Any dark shift dress would be great to move in, and won't become transparent when wet!
Lined garments. Things will cling when drenched. I stuck to a wardrobe of polyester lined dresses and saved myself from any water getting through!
Your most comfortable shoes. Avoid boots, sneakers/trainers and anything that you would skip in the rain. Flat, sturdy sandals are the way.
Hide the good stuff. You will kick yourself for thinking you can avoid your nicer clothes getting hit. There is no mercy!
Wear a bikini underneath. Simply? They are designed to be wet, your bra and underoos are not.
Un-style your hair. Tie it up or let it sway in it's natural way. Blowdries last no longer than it takes to pull the trigger of a water gun.
Here is to many future Songkran festivities! Enjoy!