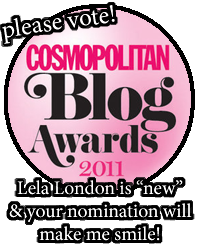 Cosmopolitan.co.uk is searching for a wide range of the best blogs of 2011! Though I absolutely hate asking for things, if you love my it here in LelaVille, please click here to vote! It is free, takes less than 5 minutes, and could lead to bigger and better opportunities for us as a community! Nominations are running from 1st August 2011 – 31st August 2011 and then the finalists will be entered in a voting process between 1st September 2011 – 30th September, 2011.
It would mean so much to me to get your vote – and retweets/Facebook sharing(!) – so I have compiled a quick guide to voting for you, below!
Your e-mail address: (Self explanatory, right?)
Blog URL: http://www.lelalondon.com
Entry category: New Fashion Blog
Is this your blog: No
Why Do You Love This Blog: (In your own words!)
Then Submit!
Besos, xo's and all that jazz,
Lela