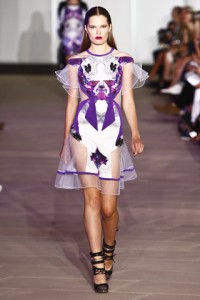 To set you up for the love fest that is about to begin, I will start by telling you that Prabal Gurung designed a collection for Spring/Summer 2012 that was so incredible I was grabbing my chest as I shoved runway photos under my (completely uninterested) Significant Other's nose. For a good thirty minutes.
Where do I start?
With a collection where purple, teal, and black ruled the palette, the variety was astounding. Gurung sourced photographs titled "Sensual Flowers" by Japanese artist Nobuyoshi Araki and turned them into the most beautiful, intricate prints.
Every piece felt special; spectacular red-carpet stealing dresses, sheer asymmetrical panels, handkerchief hemlines, rubber paillettes, exploding tulle, leather harnesses, ostrich feathers, digital print floral georgette dresses, cigarette pants, laser-cut leather shorts, printed blouses, latex coats – and none without the most exquisite attention to detail. He even styled in his Prabal Gurung for Nicholas Kirkwood heels and Prabal Gurung for Linda Farrow Projects sunglasses.
I cannot believe this is only his sixth collection. Prabal Gurung is the future of fashion.