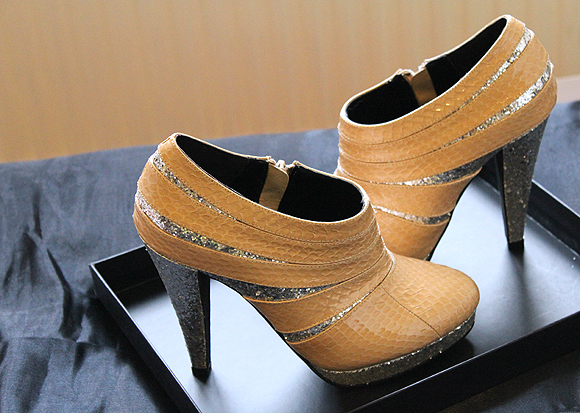 When it comes to designing shoes, especially your perfect pair, I wouldn't blame you for thinking the cost would be astronomical. That is, unless you are blessed with Louboutin-esque talent and resources.
Which – let's face it – is unlikely.
Lo and behold, I recently stumbled on a company called Shoes of Prey who let you design your own pair of shoes for less than the cost of a Giuseppe Z or Jimmy C.
Yep – that's where the shoes (above and below) came from, and I couldn't be happier. With a 4 1/2-inch silver glitter block heel and base woven underneath cream-coloured snake skin, I finally have my dream shoe.
Post-creation, it took about two weeks to receive the heels and they arrived alongside comfortable shoe inserts, a shoe bag, and a sleek black shoe box. The attention to customer service went as far as a red wax seal stamped with the silhouette of a shoe.
When it comes to wedding shoes, prom shoes, or simply treating yourself to 'dream shoes' (from stilettos to oxfords!), Shoes of Prey is an incredible service.