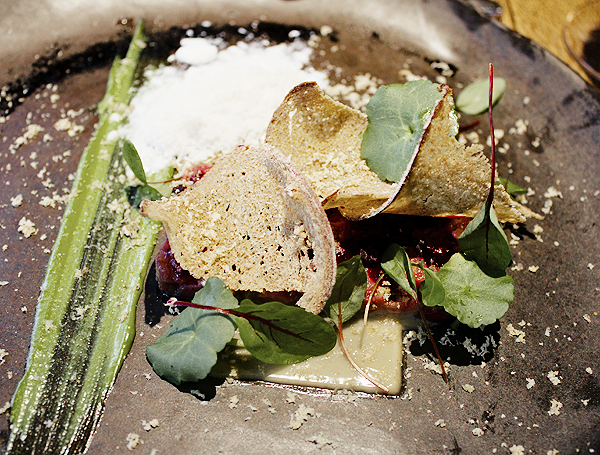 Tom Aikens makes me hate being a writer. For all of the typical womanhours I put into writing food reviews, last week's visit to his eponymous restaurant in Chelsea has increased said womanhours…tenfold. Homeboy may have had his fair share of trials and triumphs for such a young chef, but his food speaks volumes over the media hoopla. While I try to hold back my use of the word 'amazing', I will put it simply: Tom Aikens is the best restaurant in London.
Sat in a richly textured but modern dining room of oak and navy, my business partner and I were offered a pheasant and prune terrine with madeira and black truffle jelly to start. While the flavours complemented each other, I was surprised to have the no-complaints introduction to Aikens trumped by his bread basket. Alongside perfect cep buns, a crisp semolina, and a few other rustic and warm treats? A bacon and onion brioche that – in all of its spongey glory – made me believe I could be happy eating bread and butter (mousse-like mushroom butter, in particular) all day.
Dutifully, I managed to put down the carbohydrates and share our starters. Meticulously decorated plates arrived holding a Venison Tartar of remarkable quality with grated walnuts, wild sorrel, and hazelnut puree as well as Braised Pig's Trotter with lettuce emulsion, baked onion, and pork crackling. If there was ever a reason to start a food blog, the latter is it.
By the time our mains arrived, I was not sure I was still eating food. My John Dory with black olive oil, artichoke, prawns, and basil was an elegant blend of pescetarian memories while my partner's Partridge with roast pear, chocolate, and foie gras mousse…well…it blew our minds. With a smoked air that tied chocolate-packed pear parcels to the tender excellence of the Partridge, this standout dish was comparable to tasting your way through a catalogue of memories.
Combining the charm, knowledge and effect of the expert sommelier's pairings with my gluttonous nature, dessert was most definitely on the cards. In the ultimate "Death by Chocolate" moment, I opted for a symphony of dark chocolate foams with a frozen chocolate 'Aero' alongside smoked & bitter chocolate that took the form of dusts, powders and crisps. Indulgent in the truest sense of the word, my taste buds got their final exquisite blow from a plate swap of caramelised Delice D'or Apple with elderflower and pain perdu. On Cloud Twelve, I could barely take in the effect of his painstakingly elaborate petit fours (but – ahem – they seemed to disappear quickly).
Faultess service. Faultless food. Marry me, Tom?