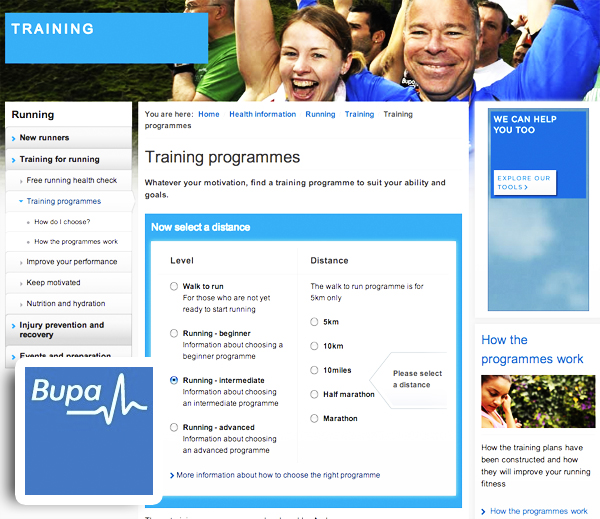 Under the 'Bupa find healthy' moniker, Bupa are back with an abundance of super convenient apps to help each and every one of us look after ourselves. The Bupa content is rather easy to navigate, app-wise. As well as offering apps to beat stress and calculate your health age, there are some great assessment features including a diabetes risk assessment and breast cancer assessment. Because all of Bupa's tools are offered at no cost, you get the convenience of checking aspects of your own health through a range of interactive applications, safe in the knowledge that the information is from a trusted health leader.
Though the 'Count Your Calories' tool and 'Alcohol Unit Calculator' are likely to be popular assistants for the New Years Resolutions of the British public, my personal favourite features are the Running Training Programmes. Whatever your motivation – even if you haven't run a mile since the age of gym tests – the programmes offer you the chance to find a training programme to suit your ability and goals. I have been going on daily runs for the past few weeks and find that the 'Running – Intermediate' level offers a very comfortable and helpful guide towards marathon preparation that I will definitely be putting good use to.
I think it is fantastic that Bupa are staying on the cusp of technology as many of us excuse ourselves as 'too busy' to take care of ourselves and end up ignoring the simplest of health checks and wellness goals. Apps are simply too convenient to ignore! You can find all of the Bupa apps at http://findhealthy.bupa.co.uk.