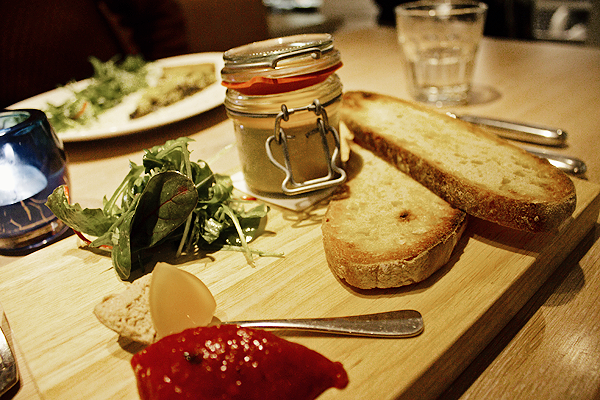 Last year the Michelin star-collecting team of Rebecca Mascarenhas and Phil Howard (Kitchen W8 prodigies, to refresh your memory) took charge and revamped Barnes' culinary wunderkid, Sonny's Kitchen. Last week, I stiletto-stomped my way south of the river to finally get in on the action.
Surprisingly, Sonny's Kitchen was no way near as 'city' as the duo's previous projects. With eclectic art lining the walls and a sunken dining area creating an intimate dimension, the tablecloth-free environment was both exceptionally welcoming and relaxed. Fellow patrons included young and old, couples and friends, families and free-flying foodies: all smiling.
Smiling is rather contagious around dishes like these (come on – LOOK AT THE PHOTOS!). The Fiancé turned into something of a Cheshire Cat as he tucked into his warm wild mushroom, onion and thyme tart, pausing sporadically to tell me 'this is going to be the best…this is going to be the best…' like some sort of deranged mushroom fanatic. With that said, I'm almost positive I got googly-eyed over my starter of foie gras and chicken liver parfait. When layered with rhubarb and blood orange jelly on top of perfect slices sourdough toast, a blast of rich flavour coated each bite.
After taking a few incredible chomps of The Fiancé's faultless steak, I focused my attention on my own plate. My main – an ugly composition of roasted veal atop thyme spatzle, jerusalem artichoke and chanterelles – could be the tantamount example: you do not judge a book by its cover. In fact, I could only reiterate Giles Coren's tweet while he dined at Sonny's in 2012: 'I am having one of the meals of my LIFE'. Caps and all.
Desserts, as you would be right to assume, were equally excellent. First – a crème fraîche tart with wafer-thin fresh pastry that practically vanished into thin air. Second (but in no way second best) – a creme caramel with golden raisins and Sauternes which offered a succulent, fruity, and nutty layer to what is usually my least favourite pudding. Not this time.
Hidden gem alert.