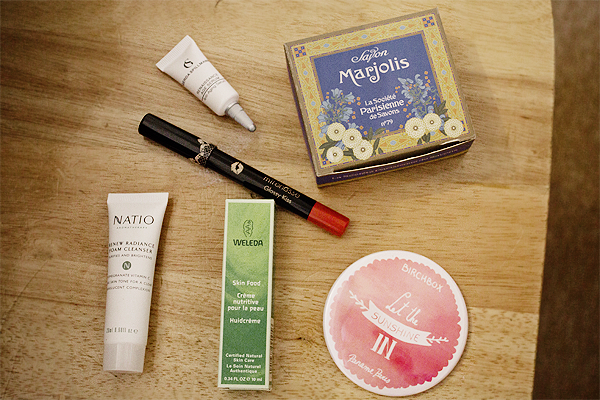 As a former Beauty Editor for a beauty box company, I am unreasonably picky when it comes to throwing pesos down to get unidentified beauty loot. With that said, it has been interesting to take a look at the progression of beauty boxes that have been released in the UK over the past year. It probably comes as no surprise to many of you that the unofficial creators of 'beauty boxes', US company Birchbox, seem to have been the box to beat since launching in the UK.
Which is why, mon cheres, I am here to review their April 2013 box for you!
My Birchbox included:
mirenesse Perfect Kiss Lipstick pencil in 14 Perfect Kiss
Lip pencils, aka Crayola For Ya Lips, are one of my favourite beauty products. This version by mirenesse was a gorgeous coral-tinted natural pink but rather sheer on application. Though it's not going to be a handbag staple, I imagine quite a lot of natural beauties would love this.
La Societe Parisienne De Savons Soap
The Art Deco-inspired packaging was lovely, but soap in a beauty box is never going to do it for me.
Gerda Spillmann Renaissance Age Serum
As a cult product, Gerda Spillmann's Renaissance Age serum uses the extract of edelweiss as its key ingredient and, thanks to the addition of tamarind seed extract, both smells lovely and packs a punch.
Weleda Skin Food
All natural beauty product! Yay! Though Skin Food is quite a heavy product, it is one that I have used a lot on models and can attest to its super nourishing and soothing properties. A little goes a long way which means – even with the sample size – you will get a lot of use out of the product.
Natio Renew Radiance Foam Cleanser
Birchbox provided either Natio's foam cleanser or their 'Gentle Foaming Facial Cleanser', of which I received the former. Like Weleda, they are quite a plant-based brand as well as being rich in vitamins and antioxidants. The 'Renew' cleanser was efficient, gentle, but didn't live up to its make-up removing properties. I will keep it at hand for travel purposes, but generally prefer something with a few more active ingredients to cleanse my skin.
Paname Paris Mirror
Okay, it's a mirror. Though it's not a 'normal' beauty product, I always find it helpful to have an extra mirror lying around (vanity exposed) and love Paname Paris' Hair (The Musical)-inspired artwork.
What I didn't receive:
Green & Spring Relaxing Conditioner OR Green & Spring Relaxing Shampoo
I believe one of 'wildcard' products in the boxes were Green & Spring's Relaxing hair products. As a natural beauty junkie, I feel like I would have loved this line of UK-sourced handmade and all-natural products.
With the soap ditched and the Green & Spring sent to all subscribers, this coulda woulda shoulda been an ideal beauty box for me.