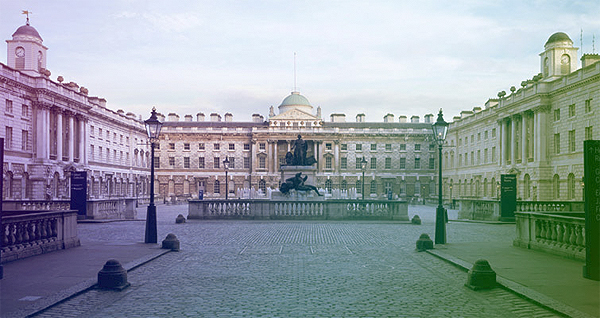 Somerset House, for some, will always bring to mind birth certificates. But to younger Londoners, this imposing 18th Century neo-classical building is a superior, atmospheric urban outdoor venue known for quality, cutting-edge music, cinema, and – obvs – London Fashion Week.
Between the Strand and the Thames, Somerset House was originally built for the Duke of Somerset and first became a government building following the civil war. Its importance at the time is noted by the fact that Oliver Cromwell actually lay in state following his death in 1658. Rebuilt later as a public building, it would house many learned societies including the prestigious Royal Academy.
The Registrar of Births, Marriages and Deaths was based here from the 1850s to the 1970s, but the historic palace and grounds which inspired paintings by Canaletto is now managed by a trust, keen to revive its rich heritage and inspire a more cultured future.
In July, the 55 dancing fountains in its cobbled Edmond J. Safra Fountain Court, an award-winning public space, are turned off to create a 3,000 capacity venue for the annual Summer Series at Somerset House, sponsored by American Express. Over the last 13 years, the prestigious festival has presented inspiring, innovative artists like Grace Jones, Elbow, Robert Plant, Adele, Blondie, Sigur Ros and Bert Jansch. Glaswegian post-rock outfit Mogwai's swirling surround-sound 2007 series opener is still fondly remembered from the back catalogue. 2007 also saw Amy Winehouse play an accomplished, moving set that year, not long before her tragic passing.
Underworld fans still reminisce about dancing deliriously in 2003 to 'Two Months Off' as the sun set over the spectacular architecture. Goldfrapp's set from that same year was filmed for release on their 2004 Wonderful Electric DVD, and the band also made another Somerset House appearance as part of the eleven date 2013 programme, which also included second appearances by Band of Horses and Basement Jaxx. Richard Hawley, who also featured this year, said: "Somerset House is the venue along with Greenwich Observatory I've always hoped I might get a chance of playing as they are both connected deeply with our country's history."

American Express customers benefit from the company's sponsorship of the series with an exclusive ticket pre-sale, and booking your tickets as early as possible for the 2014 event is highly recommended. In addition to priority booking periods, Amex customers can also benefit from automatic membership with the British Airways' Executive Club, thanks to the British Airways American Express Avios Credit Card. Head to https://www.americanexpress.com/uk/ for more information. Representative 15.9% APR variable.