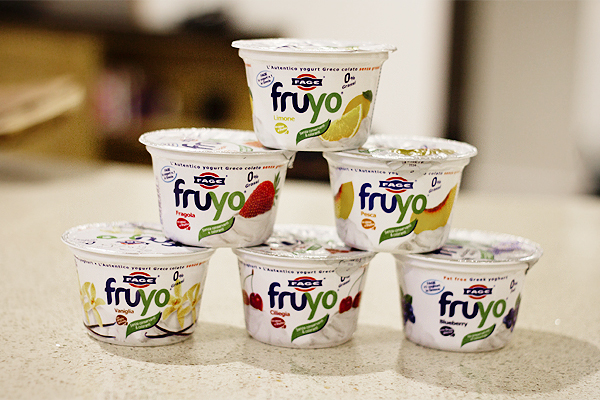 For all of its low-carb, high-protein, thick and creamy goodness, I adore greek yoghurt. My particular brand of choice has always been Fage (the makers of 0% Total Greek Yoghurt); all down to to their apparent omnipresence around the world and general healthful nomability. When I found out Fage were adding flavoured and fruity greek yoghurts to their line I could not get a spoon out fast enough.
Armed with Lemon, Strawberry, Peach, Vanilla, Cherry, and Blueberry versions of the new release – Fruyo – I dug in and was immediately rumbled by the strong taste of sugar.
Sugar?
I flipped the package to its side and searched for the ingredients: strained yogurt (Grade A Pasturized Skimmed milk), live active yoghurt cultures, sugar, water, rice and corn starch, natural vanilla flavour, ground vanilla beans, lemon juice concentrate.
A far departure from the brand's 0% alternative, to say the least. While the flavours have received rave reviews from my friends and family, I just can't wrap my head around the sugar content. Lemons are one of the most low-sugar fruits (only beaten by limes and avocados), yet the Lemon Fruyo pot has 29 grams of carbohydrates coming – mostly – from 27 grams of added sugar. Fage's traditional health-conscious customer is completely alienated by such nutritionals.
On the flip side, while Fruyo isn't an option for the clean eaters among us I do think it's a fair swap for someone looking for a slightly healthier option at dessert time.
Plus, the Vanilla flavour tastes like creme brûlée. #cheatday