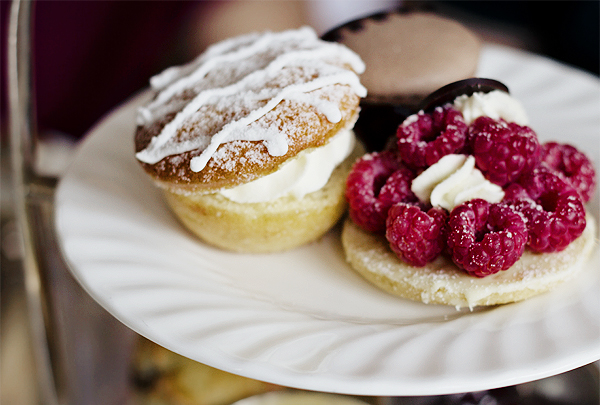 Betty's in Harrogate is somewhat legendary. When I moved up North, everyone who had foodie advice to share would throw Betty's into the mix; afternoon tea at Betty's was an inevitability.
Arriving to the Imperial Room in a mini harem of lovely ladies (the only way to 'do' afternoon tea), we were immediately taken by the atmosphere. As you sweep past Betty's omnipresent queues, walk up the stairs and into the reservation-only Imperial Room, you are wrapped up in the seamless warmth of their live piano player's little ditties.
With high-ceilings, chandeliers, and views of Montpellier Gardens, the ambience is like nowhere else…but you do pay for it. More on that later.
Deciding to kick the afternoon off with a glass of champagne, I took quasi-ladylike sips as we perused the extensive tea menu. As each of us came away away with a different choice – floral, English, fruity, et al – we were surprised to find each new tea as delicious as the last (though, for me, Jasmine Blossom is always victorious).
Moreover, the service was impeccable.
It's the value of the food itself that I found a small issue with. At £26.95 (or £33.95 with a glass of champagne), Betty's afternoon tea is an occasion-only treat for most people…and I didn't love the food. The sandwiches were standard filling sandwiches. The scones were delightfully light, but not fresh or warm. The cakes – my highlight – were fantastic, but six of them were split over two stands which made for unnecessarily awkward 'splitting' situations if you wanted to taste them all between two or more.
To put it simply; I've had more creative afternoon teas, with more attention to detail, for less. It's a tourism legacy – one I'm glad I've experienced – but I would advise anyone to indulge in some tea and cakes before going down the full afternoon tea route.