Inspired by Oasis' face swappable bottles…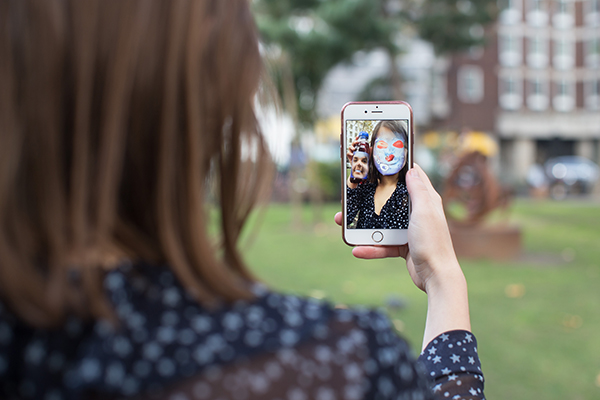 This week – to the delight of social addicts everywhere – Oasis launched the world's first face swappable bottle (you can useany app that features face swap technology to take part).
They don't just want Oasis in your face anymore, they want it on your face.
Since Oasis are giving y'all the chance to win one of 500 face swappable bottles of Oasis Summer Fruits (you simply head to Oasis' Facebook page and enter by posting one of your best face swap photos in the comments section – T&CS), I thought I would get you help you prep and prime with a rather affirmative guide to selfies…
Why you should embrace the selfie: face swaps, filters, and all…
1. Confidence.
Until the selfie become a 'thing', we were forced to suffer at the results of candid or awkwardly-posed photos requested by the one in ten people who fancied themselves as a photographer.
Put brilliantly by Susan Sontagm, "to photograph people is to violate them, by seeing them as they never see themselves, by having knowledge of them that they can never have; it turns people into objects that can be symbolically possessed. Just as a camera is a sublimation of the gun, to photograph someone is a subliminal murder."
Now, we can snap a photo of ourselves which – at the most basic level – captures how we really see ourselves. As fierce, beautiful, and 'us' as we want. A selfie is often a rare moment where we're not comparing ourselves to others or berating ourselves for looking different to 'the girls in the magazines'. Without their teams of stylists, hairstylists and make-up artists, we can capture a moment of equal hotness.
2. Feminism.
Misconceptions and judgements of selfies often come labelled alongside superficiality, vanity, and desperation – the misogynistic armour of anti-feminism. When the entire world wants us to look a certain way and suggests it is more virtuous to self-loathe than self-love, a selfie is a rare moment where women can call the shots. Unapologetically.
A healthy, positive image of yourself as a woman is not vanity. It is wonderful.
3. Memories.
Are you going to look through 100 blurry photos of the Eiffel Tower in your old age? Doubtful. Are you going to look through photos of you and your loved ones smiling in front of the Eiffel Tower? Absolutely.
Bonus points for having plenty of visual proof of how hot you've always been.
4. Straight up fun.
With face swaps, filters and hyper-changing phone technology, selfies can be a tonne of fun. If you haven't face swapped with your partner (#futurekids), turned yourself into a piece of toast, or filtered a floral crown onto yourself when you have the flu, frankly, you haven't lived.