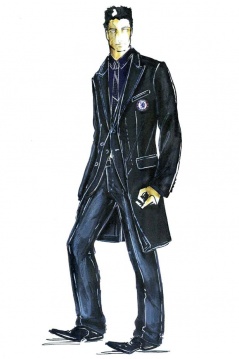 "Football players are style icons both on and off the pitch, and, on top of this, there is our love of England and of London, which has always been a source of inspiration for our work." – Dolce and Gabbana
Domenico Dolce and Stefano Gabbana (of Dolce and Gabbana, if you couldn't piece it together) signed a three-year contract to outfit Chelsea Football Club. As my local team, and one of my longest designer loves, I couldn't be more thrilled.
The team will be kitted out in two different ensembles as below in addition to a black overcoat:
1) A dark blue three-piece suit with the club's crest on the jacket.
2) A casual look, with jeans, a black shirt and trainers.
The dynamic duo have also redesigned the club's Director's Lounge at West London's Stamford Bridge stadium. Chelsea staff will also benefit from the collaboration. Head coach Carlo Ancelotti and the team's male and female executives will get suits and accessories like a blue calfskin briefcase, black leather shoes (pumps for the ladies), and tie pins.