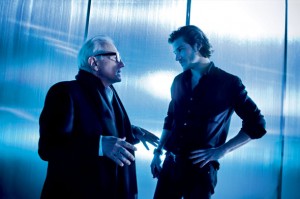 Martin Scorsese's commercial for Chanel's new men's fragrance, Bleu de Chanel, has been on my must-see list for months. The short was released today, and it features all the grit and energy that the legendary director has become famous for.
As your expected Scorsese stoy goes, a rebellious young actor played by Frenchman Gaspard Ulliel (of "Hannibal Rising") refuses to conform to expectations, and falls in love with a woman who fuels his work though passion and turmoil. All that's missing is the famous Copacabana Nightclub sequence from "Good Fellas" along with much of his signature violence, though kind of tough to help sell cologne.
Scorsese's Bleu de Chanel commercial is the latest example of the fashion world getting famous names to direct their commercials, or "short films" as the companies have begun calling them. Gucci recently released a preview of the 3-D ad for their new fragrance Gucci Guilty starring Evan Rachel Wood and directed by Frank Miller of "Sin City" fame. The full "film" will make its debut at the MTV Video Music Awards on September 12th.