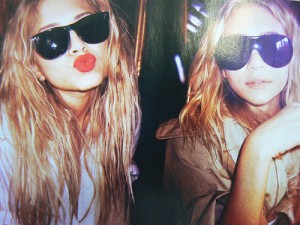 The press release for Mary-Kate and Ashley's website for their label The Row told us the following:
Reflecting designers Ashley Olsen's and Mary-Kate Olsen's interest in fashion, film, and art, the site's interactive shopping portal creates a virtual home for The Row's customers to experience and explore each season's collection in an intimate online setting. "We focused on The Row's e-commerce experience to be engaging, effortless, and as user friendly as possible," says Ashley, "It's a natural extension and next step to building The Row's lifestyle brand."
The website, which went live today, was designed by Sweden Unlimited. Mary-Kate told Style.com:
"We looked at a lot of different Web sites before we started working on our own, and we thought most of them were too loud. We wanted The Row Web site to be subdued and very direct. I think that has been a philosophy behind The Row ever since we started the line. All of the background visuals are high-res images of actual fabric swatches from our collections. We wanted the viewer to really see all of the details of the beautiful fabrics we use—washed red silk charmeuse, the scales of our python skins, our cashmere modals. We wanted it to feel like you could reach out and touch everything."
It's absolutely simplistic and cool, and a vital step forward for the brand. In celebration, here are some deals:
1. Enter the promocode SHOPTHEROW and take 15% off entire purchase. Offer expires on 8/20 at 12 Noon PST.
2. Registering your email on The Row's online store automatically enters you to win a pair of The Row leather Motorcycle Pants. Contest ends on 8/20/2010 at 11:00 AM PST.