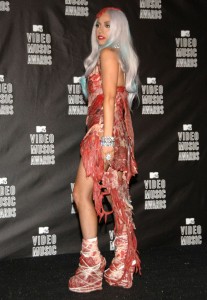 "It's certainly no disrespect to anyone that's vegan or vegetarian. As you know, I'm the most judgment-free human being on the Earth. It has many interpretations, but for me this evening it's [saying] if we don't stand up for what we believe in, if we don't fight for our rights, pretty soon we're going to have as much rights as the meat on our bones."
I can only assume Lady Gaga smelled absolutely rank at last night's Video Music Awards. Nicola Formichetti – is this your doing?
In addition, her fragrance rumours have finally been confirmed. In a deal that was completed last week, Gaga has finally signed a long-term licensing agreement with Coty to create fragrances under her name. The first one will launch in Spring 2012. With meat undertones, perhaps?