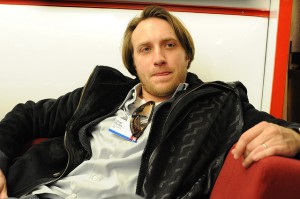 Chad Hurley – the co-founder of YouTube – has stepped down from his position as CEO of the company to work full-time on his menswear label, Hlaska. In the most basic of reviews, the clothes are overpriced. There are plain hoodies for $135, boring blazers for $425, and canvas belts for $75.00; it's just a completely uninspiring snooze fest. I don't understand how a business mind can hope to make this work.
"We make wallets, bags and shirts we'd want to see sold in stores. In that sense it's exactly like YouTube. We wanted something that wasn't available, so we built it ourselves," Hurley said, except that…yes…plenty of wallets, bags, and shirts are available. In a struggling economy. For less.
The name? "It's a combination of Hawaii and Alaska. My business partner, Anthony Mazzei, and I love the dichotomy. Alaska and Hawaii are hot and cold states, small and large, and represent the last of America's expansion. It's that tension that we love."
Tension, indeed. All I can do is wish him the best and continue to support my boyfriend's choice of cheaper and better quality garments.