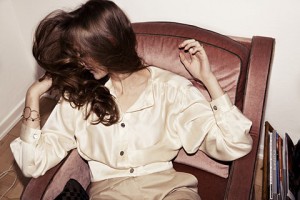 I have talked to you about my obsession with hair. Now, it's time to talk about length. I am an absolute sucker for long hair and after cutting my hair a while ago, I am beyond eager to grow it all back. Of course, the other option is hair extensions.
Trouble is, I had hair extensions a long time ago and wanted to rip them out of my head (I ended up doing so a week later). Choosing between a few different methods, I thought I would be too clueless for clip-ins so the fusion technique would be best. Boy, was I wrong. Though it was done by someone with a great reputation, the glue bonds made my hair heavy, painful and in major need of conditioning. What I didn't know then was that micro rings are the answer.
Micro rings cause no damage to your natural hair and are completely without glue or weave. The jist is that a strand of extension hair is placed with a strand of your hair – creating a single combined strand – then placed inside the ring and closed flat to tightly hold the extension hair to your natural hair. These rings weigh nothing more than an extra strand of hair and are almost invisible (no chunky glue!). Since there is no chemical process to remove or maintain them, they can also last well over three months.
Important Tips
– Ask around. Read tons of reviews. The hair extension industry is prone to people who have no idea what they are doing (check Youtube for horror stories if you dare).
– Do not try and do it yourself. You can't 360 your head like a trained professional.
– The only no-no for micro ring users would be to brush your hair starting from the top. You would be brushing a tiny ring. Otherwise, it acts like normal hair.
– Hair quality. The scam artists of the industry are known to use plastic or plastic/real combination hair of very poor quality. You have the right to see and touch the hair.
– You get what you pay for. If it seems too good to be true, or you're getting charged a flat rate for any length you choose, you are being taken. It is common sense to know the longer the hair, the more it will cost.
In my research, almost everyone I've spoken to in the industry has said the best hair extensions in London are done by Hairextensionaires. Jacqui – the sole owner – has clients travel internationally to get their hair done by her. She is so talented she can even work with those suffering from hair loss; with years of experience and well-priced service, she is renowned as the key to healthy, heavenly hair. It is time to start saving the pounds, ladies!