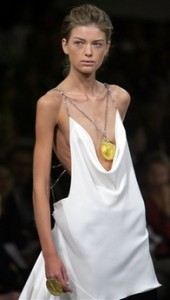 This kind of blog is never easy to write. Today, the world found out that French model Isabelle Caro – known for her nude anti-anorexia campaign circa Milan Fashion Week 2007 – has died. She actually passed away on the 17th of November after being treated for an acute lung infection in Tokyo. While the direct cause is unknown, it is believed to be a direct result of the disorder she has suffered since the age of thirteen.
If you don't remember, Isabelle's anti-anorexia campaign – shot by Olivero Toscani – was a controversial, headline-hoarding effort that was endorsed by the Italian Ministry of Health and shot when she weighed only 59 pounds. It also was released shortly after 21-year-old Brazilian model Ana Carolina Reston died of anorexia.
Caro also moved Jessica Simpson to tears in an interview for her show "The Price of Beauty", where the model expressed her efforts to pass a law in French parliament that would prohibit models from working if they were too thin. Rest in peace, beautiful girl.