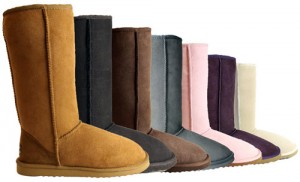 Now that the signs of this brutal winter are fleeing (who am I kidding? I live in Bangkok), it's time to talk Whooga boots aka Ugg boots.
I'm dodging stilettos, I'm sure. The truth is, before the fashion faux pas' were riddled with fame and Paris Hilton-synonymity, Uggs were the love of my post-dance life. And they're due for a comeback. Especially in the form of Whoogas.
With a pair of both at your disposal you will find that:
The sheepskin on Whooga ugg boots are both thicker and softer than other brands.
They are cheaper! More bang for your buck and almost half the standard price. (Also, they have been kind enough to give you guys 10% off this week with the discount code "1578LELA"!)
The shaft/height options are much more flattering for the shape of your calf. No more looking like a tantrum-stomping alien.
The heel has more support: the kind that curves to your foot's contours!
Whooga are also running a boot giveaway to everyone that signs up to their newsletter (open worldwide)! Personal 'winner' wishlist? Pink ugg boots. Wait, the mini ones…and the chocolate weave…and…and…