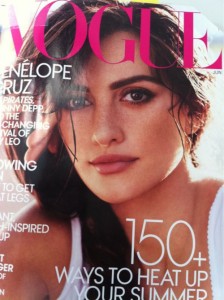 Seems like we are only one of a few people to catch Stefano Gabbana's blink-and-you-miss-it slip up via Tumblr. After Vogue sent the Dolce & Gabbana designer an advanced copy of the issue, a cellphone shot confirmed the June cover model to be Penelope Cruz! (The post was quickly deleted from internet record).
I just received a june Dolce moment in Vogue USA Thank you Anna!!!!! :-)))
– Stefano Gabbana's Tumblr
We have come to find out that the flawless actress wears the brand both on the cover – shot by Mario Testino – and in the accompanying spread. Was the cover shot on film? It is an absolute aesthetic treat, and total departure from actress covers of the past ten years. Best of the past decade, for sure.