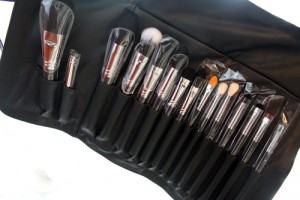 Though I'm still in the shoe-buying process for the winner of the last competition, I couldn't wait any longer to give you a brand new chance for freebies!
This time? The Sigma Premium Professional Kit!
If you haven't already got your hands on some Sigma, you are in for a treat. This make-up company has some of the most versatile, long-lasting brushes on the market. The kit I am giving away is the "big daddy" at $149. Anyone who has bought make-up brushes before can confirm what a bargain that is for 15 brushes of such high quality!
How To Win The Sigma Brush Kit!
Live somewhere. It's open WORLDWIDE!
Must be subscribed to the mailing list.
E-mail me (lela at lelalondon dot com) to let me know your favourite or least favourite make-up product. (The e-mails will be randomized – I am personally interested!)
Additional entry for being a Facebook fan.
Additional entry for following on Twitter.
It's as simple as that! As always, make sure you have permission to send out your mailing address if you live under your parent's roof. Entries will be accepted until June 19th, 2011! Good luck!
The Professional Kit includes 7 face brushes, 7 eye brushes and Sigma's first lip brush in a perfectly chic brush roll:
Lip – L05 – Compact synthetic lip brush protected by a metal cap. Used for application of lip products such as lipstick, lip gloss, and lip balms.

Small Eye Liner – E10 – Delivers a precise fine-line along the lash line. The length and density of the bristles are ideal for creating artistic designs.

Flat Definer – E15 – Small, firm, and flat, this unique brush can be used to line the eyes for instant definition. Can be used with powder, liquid, or cream products.

Short Shader – E20 – Flat, short, slightly rounded and dense brush. Perfect for precisely applying colors on the lid and smudging along the lash line.

Blending – E25 – Oval-shaped brush with gently chiseled sides. Blends and softens the look of powder or cream shadows. Ideal to apply eye shadow primer, base eye shadow colors, and blend harsh lines.

Tapered Blending – E35 – Fluffy, long-bristled brush with tapered tip. Ideally used to apply and blend color to the crease area and to soften harsh edges.

Small Tapered Blending – E45 – Small domed brush with highly tapered tip. Versatile, this brush can be used to precisely apply and blend intense colors to the crease area.

Large Fluff – E50 – Versatile fluff brush. Ideal for applying and blending powder products on the eyes and face. Can be used for applying single shades all over the lid, highlighting cheek bones, and for contouring.

Powder/Blush – F10 – Medium round brush with soft and natural bristles. Ideal for precise blush application.

Duo Fibre Powder/Blush – F15 – Medium size tapered duo fibre brush. Widely disperses highly pigmented or mineralized powders. Generates a natural look during blush and highlighter application.

Large Powder – F20 – Large paddle-shaped brush with fluffy and rounded tip. Suitable for application of powder products on face or body. Natural fiber bristles.

Tapered Face – F25 – Large domed brush with tapered tip. Ideal for application and blending of powder products, blush, and highlighter.

Tapered Highlighter – F35 – Tapered cheek highlighter. Delicately rolls powder under eyes. The precise tip in this brush enhances cheek highlighting and contouring.

Large Concealer – F65 – Large synthetic concealer brush. Can be used to apply cream-based products to large areas. Also ideal for application of liquid or cream blushes.

Concealer – F75 – Small synthetic concealer brush. Slightly pointed tip allows for perfect and precise application of cream products in small and defined areas.
If you want to get a feel for how many of them work, check out this Tulisa Contostavlos daytime makeup tutorial.