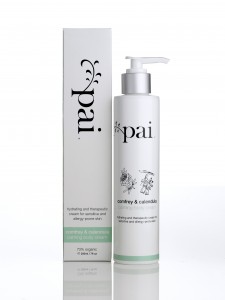 Though I am lucky (and regimented) enough to have blemish-free skin, my outer layer is actually quite sensitive. On top of that, I have battled Keratosis Pilaris Rubra on and off for ten years. If you didn't know, Keratosis Pilaris is the scientific term for unusually bumpy and inflamed areas of skin.
Because there is no 'cause' for the condition, I have spent a long time trying out exfoliating and moisturising products for the body in hopes of reaching a good formula to 'cure' it. While the exfoliating side of things can be done as cheaply as a sugar mixed with olive oil, the moisturiser has been a problem.
This is not a paid ad. I have literally found the perfect moisturiser.
Pai Skincare's Comfrey & Calendula Calming Body Cream is organic, anti-inflammatory (thanks to the calendula) and healing (thanks to the comfrey). After two days of use, my skin was 100% bump-free. While the two c's are mega winners, the allantonin – a natural substance I had never tried – seems to be the key, stimulating growth of new skin. The lotion itself is silky, rich, and smells faintly of orange sorbet.
On top of that? After using a hair product that left less-than-desirable results, I emptied two pumps of the body cream into my hands and worked it through my hair. Four strangers have complimented me on my locks today*. It is incredibly silky, brushable (!!), and has virtually airbrushed the frizz from my head.
I somehow feel everyone can find use for this.
* I am a frizzy mess with hair down to my bum. This never happens.