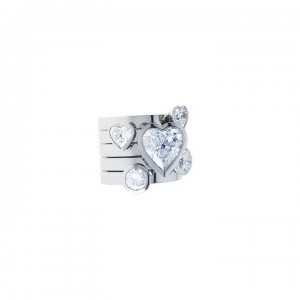 On Wednesday, I got a sneak peak at one of the best jewellery collections I have seen in a long time. Presenting…Jian of London!
For 2011, Jian of London were actually awarded the Editor's Choice award at the most prestigious of trade shows, International Jewellery London. The award itself is designed to recognise and showcase jewellery designers who exhibit jewellery that is extremely creative and cutting edge. With the innovation and unique processes that go into the making of Jian's pieces, International Jewellery London couldn't have picked a better brand.
Currently, Jian boasts five collections; Combinations, Expressions, The Northern Lights, Chichi, and the latest collection, Stardust. The latter is "oh my shiny goodness"-worthy, with amazing and customizable pieces like the Ruby Sapphire Dome Ring – a snowglobe-like ring with floating jewels of your choice.
And though the pricetag on the dome ring will not suit everyone's budget, Jian has everything from glittering pendants to double-sided earrings to stacking rings (seen above) that start as low as £15! Even better? The brand-wide rhodium plating means they will last for years to come.