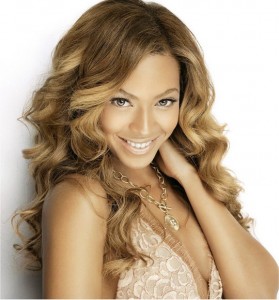 On the hair envy front, Katy Perry, Beyonce, Jessica Simpson, Taylor Swift, Ciara, Angelina Jolie, Paris Hilton and Tyra Banks could all be categorized into a box I would happily label, "Give me your damn hair".
Makes it quite shocking to know that their hair isn't real, doesn't it? No, I'm not talking about extensions (which are all so common now I have spotted tracks on 12-year-olds), but lace wigs.
A lace wig is one of the most natural looking 'hair systems' on the market. This isn't your 10-dollar party wig (the kind designed to last 5 minutes…tops). Basically, a lace wig is made by using a fine lace material as the base/scalp, then tying individual human hairs onto the lace. The term 'full lace' denotes that the base cap is made fully of lace, while 'lace front' wigs have lace in front and different materials at the back of the cap. Once custom-made, the wig is then attached with a special glue (strong, but harmless), pins, clips, or special tape. No damage!
The reason celebrities wear them? The easygoing luxury of it all! Not only can you get top-quality hair the second you wake up, but you can change colour, length and texture without any damage to your own strands! The versatility is astounding. Also, with your "cheap wigs" you often get shedding and no ability to tie your hair up or expose the nape of your neck without seeing the wig. Lace technology makes it look no different to a normal hairline. Undetectable.
I found out about lace wigs through my close friend's Mom, who recently launched a lace wig store. The amazing thing is, I have adored both my friend and her mother's hair for some time and have never doubted that so much as an extension had gone into their hair! They are just the sort of beautiful, polished women who seem as though they've just stepped off of a movie set every day. I suggest you take a look at their new website for inspiration and more of an insight into the world of celebrity-perfect hair! Be ahead of the trend.