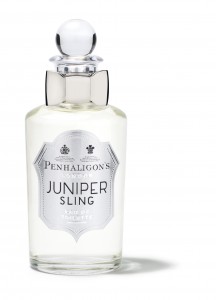 If there was ever a fragrance that could be renamed "Lela London", this might be it. On September 5th, Penhaligon's is launching their latest fragrance, "Juniper Sling". Penhaligon's. The brand's own master of fragrance, Olivier Cresp, was inspired by London Dry Gin and wished to deliver a playful, chilled and mysterious homage to the Bright Young Things of London's roaring twenties.
Though I'm not a big drinker, I am notorious for having one solo choice at the bar and one hardcore wardrobe inspiration era; those would be a gin and tonic and the roaring twenties. Though the fragrance was enigmatic from the get-go, the meticulous measures of gin, cardamom, brown sugar, black cherry and angelica (among others) are intoxicating. A sensuous and complex drink for the skin.
Juniper Sling Eau de Toilette 50ml will be sold for £78, and the 100ml for £110 in Penhaligon's boutiques, concessions and online at www.penhaligons.com.